The Fort Fisher State Recreation Area at the southeastern tip of North Carolina attracts visitors with almost six miles of beautiful beaches, trails, and salt marsh. You'll encounter a visitor center, Civil War-era historic site, and boardwalks. On the ground around the shoreline, you may spy loggerhead sea turtles and piping plovers.
If you want to know what lies underneath the waves of the open ocean, you can pay a visit to the North Carolina Aquarium at Fort Fisher located at 900 Loggerhead Rd, Kure Beach, NC 28449. It is one of four NC aquariums. For more information, you can contact them at their phone number of (910) 772-0500.
On your next visit to Kure Island, consider visiting the Kure Beach Aquarium. Here's what you need to know and what you can expect on your visit.
Visiting the Kure Beach Aquarium
This repository of aquatic life is more commonly known as the Kure Beach Aquarium. It's easy to reach on US 421, just 20 miles south of Wilmington. If you're in Southport, you can take the convenient ferry by yourself or take your car. When you reach the Fort Fisher Ferry Terminal, the NC aquarium is just a 15-minute walk or 5-minute car-ride east on US 421.
Reservations
You need reservations. Make them as far in advance as possible because sellouts may happen, especially on rainy days when attendance goes up. The facility opens every day from 9 a.m. to 5 p.m. but the last tickets are sold at 4 p.m. with the last entry at 4:30 p.m. The aquarium is closed Thanksgiving Day and Christmas Day. Parking is free. Most visitors tour the exhibits in two hours.
Admission
Admission costs $12.95 for adults 13 and above, $11.95 for seniors who are 62 and older, $11.95 for military, and $10.95 for kids from 3 through 12. EBT cardholders pay $3. NC Aquarium Society Members and ages 2 and younger are free.
Tips
The SharkBites snack bar offers food and drink every day from March through September and on weekends in October and November. Otherwise, neither food nor drinks are allowed inside. The building is wheelchair accessible with a limited number of wheelchairs available on request.
No animals except for service animals are allowed in the Aquarium. Non-commercial photography, even with flash, is allowed. However, commercial photography and filming require advance clearance
What You'll See
The Aquarium's 92,000 square feet spreads out over two floors. Over 2,500 animals live here in specially created habitats.
Layout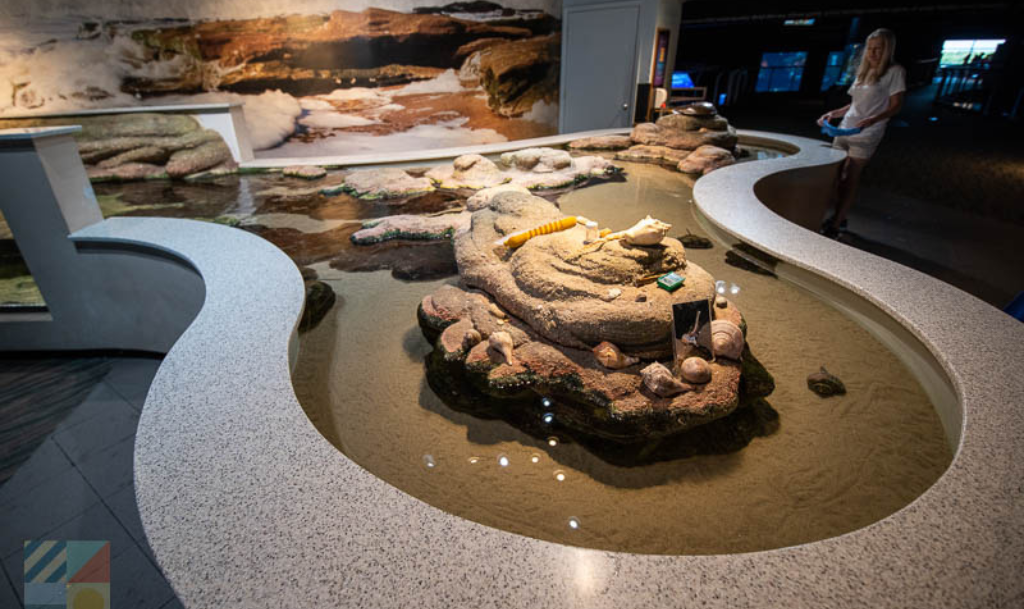 You enter the upper level through the Visitor's Center before entering the natural world in the Cape Fear Conservatory, where you'll see freshwater life common to the Cape Fear River. You'll then move on to the upper level of the Marine Building, which exhibits saltwater life and contains classrooms.
Dive to the lower level via the stairs or elevator to continue with the Marine Building and more unusual species from the sea, such as jellies and sea horses. Also on the lower level are the Adventure Reef Playground where the little ones can release their pent-up energy, auditorium for shows, Sharbites snack bar for when you get hungry, gift shop for souvenirs, and the Garden with more animal exhibits. You'll find restrooms on both levels.
Otters on the Edge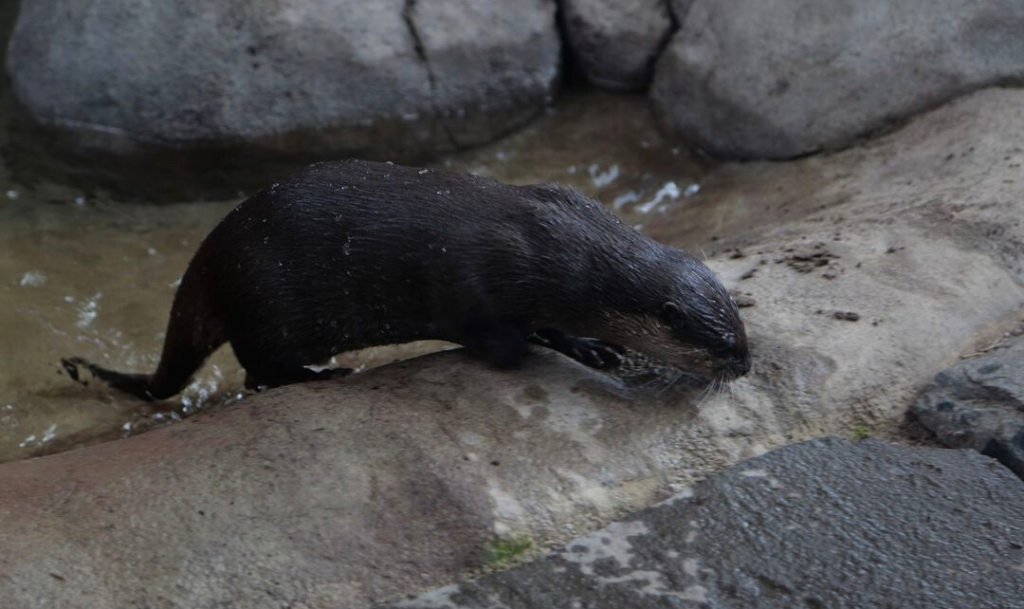 One of the newest exhibits, Otters on the Edge, features a family of four Asian otters that include mom Asta, dad Oscar, daughter Triton, and son Ray. They frolic in a 3,000-square-foot area decorated by an enclosed pool, a log slide, streams, and waterfalls. Your youngest kids can explore a crawl space that is also a perfect photo spot.
Exotic Aquatics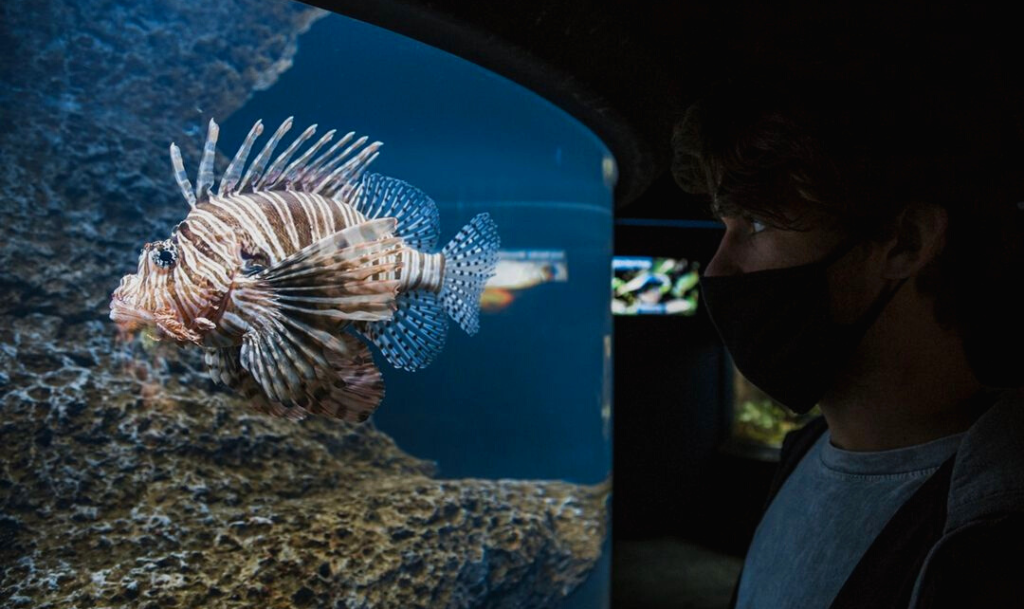 The more unusual species of the Indo-Pacific area make their home in this gallery, including seahorses, shrimp, spiny lobsters, lionfish, and sea snakes. They dart about the colorful coral and anemones in the Pacific Reef display.
Cape Fear Shoals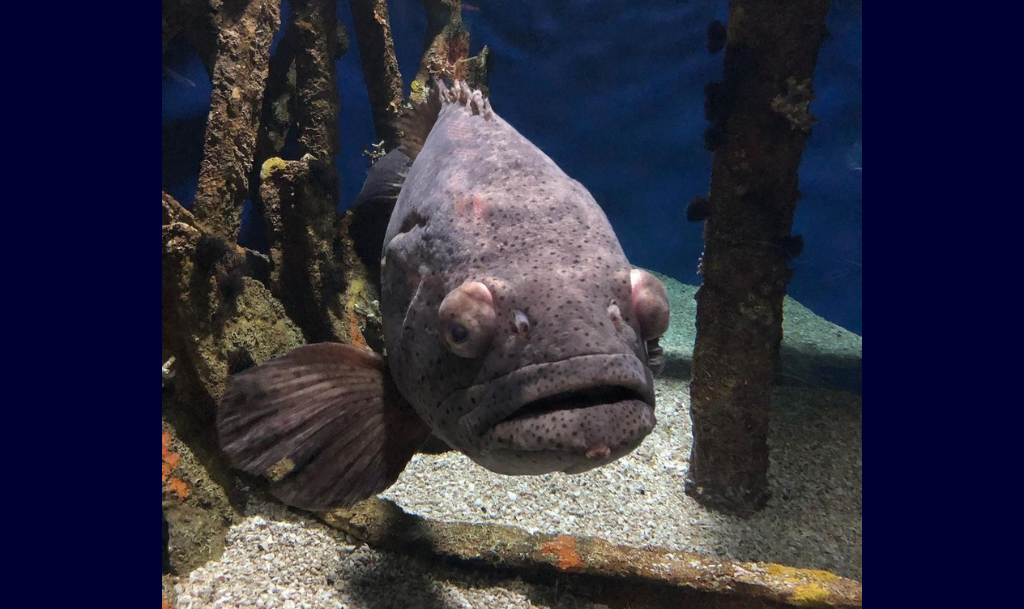 The largest tank in the Aquarium surrounds the 235,000 gallons of Cape Fear Shoals and extends over two stories. It houses larger sea life such as sharks, sea turtles, rays, groupers, and eels. You may spot a human diver or two, and you can ask them questions during Dialog with a Diver.
Touch Tank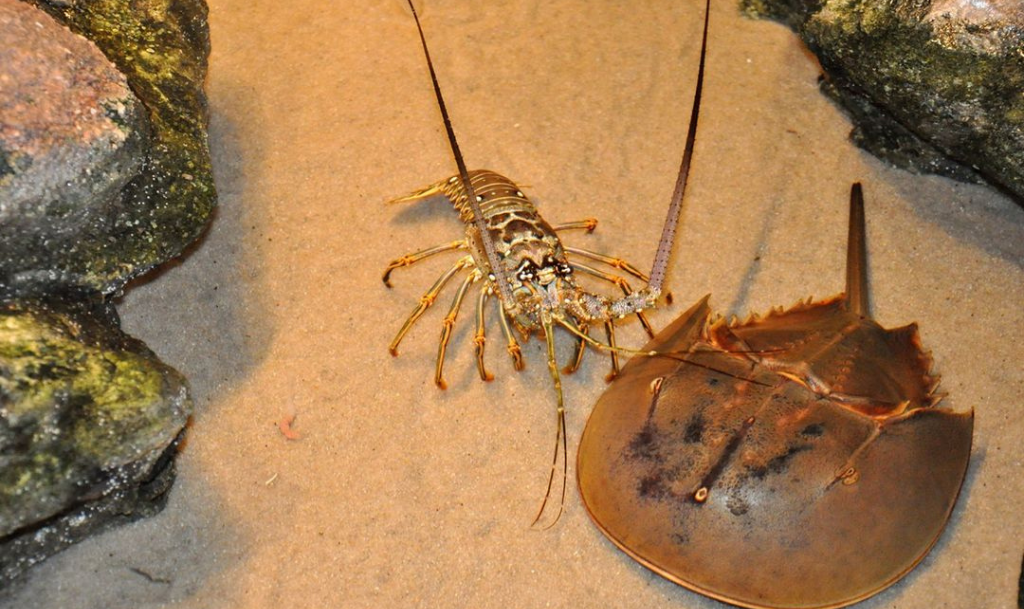 Do you or the kids want to feel the skin of a Southern stingray? Then head to the Coquina Outcrop Touch Pool. You won't have to worry about their barbs because they've been removed, which does not hurt the animals. You'll also get a chance to feel sea urchins, horseshoe crabs, whelks, and other creatures.
Animal Celebrities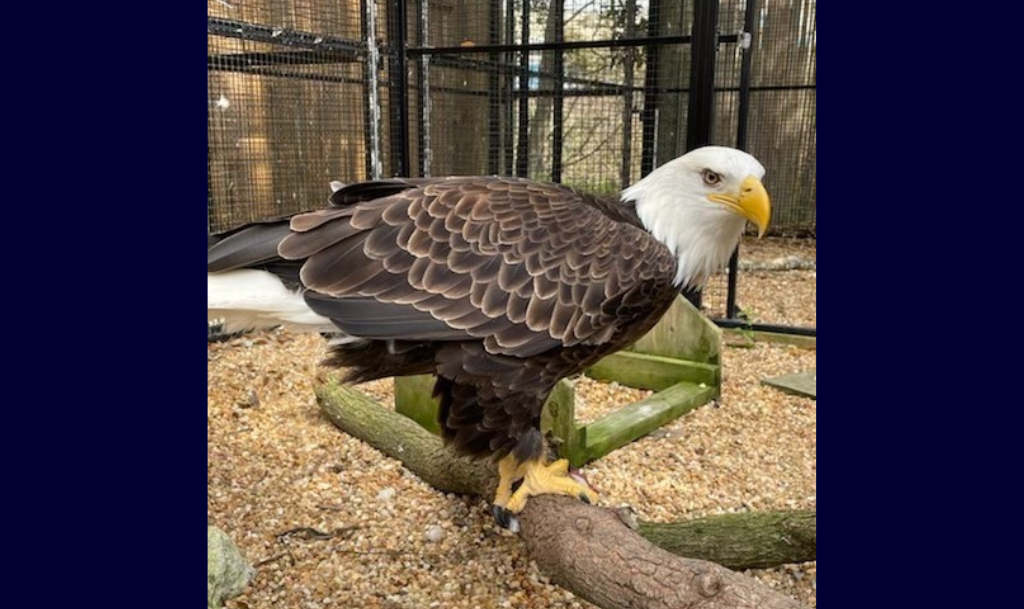 Watch out for Luna, an extremely rare albino alligator. Only about 100 are known to exist throughout the world. They normally don't survive in the wild because their sensitive white skin easily burns under the sun where they like to bask. They also find it difficult to spot food and predators because the sun burns their pale eyes.
Maverick, the bald eagle, was found in Wisconsin as a juvenile with a broken wing. He cannot be released into the wild because he cannot fly. You'll find him outside in the Garden.
Giving Your Time and Money
If your experiences among the jellyfish, moray eels, and other water inhabitants inspire you to help out the aquatic ecosystem, consider giving time or money to the Aquarium.
Volunteering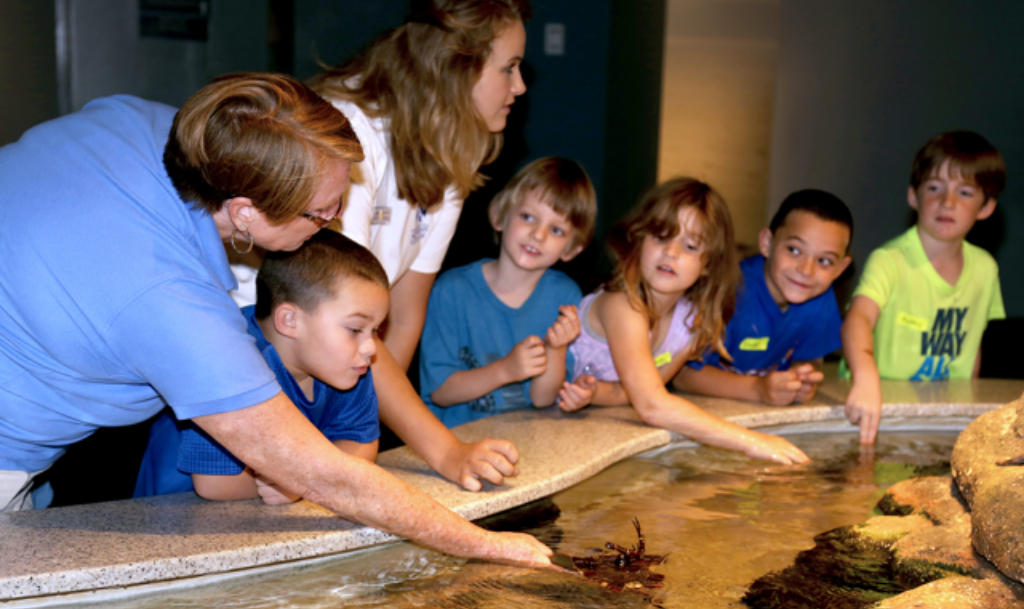 If you want to volunteer, you must be 18 years old and above and commit to at least eight hours per month. Adult volunteers can participate in education, horticulture, aquariology, operations, special events or activities, and assist with routine cleaning and maintenance.
Those aged 14 to 17 can join the teen volunteers, which demands eight hours a month for six consecutive months for the year-round program or eight hours a week for the summer program. They can staff the bald eagle exhibit, loggerhead sea turtle exhibit, or the two touch pools.
Donating
You can also help out by donating money either outright or by joining such programs as Own-A-Fish, which lets you choose a fish inscription for a hand-cut fish tile, or Adopt-an-Animal, which lists your name on the website and gives you an adoption certificate.
You can also become a member of the aquarium for at least a year, which gives you and/or your family free admission, discounts, and reciprocity with 150 other zoos and aquariums.