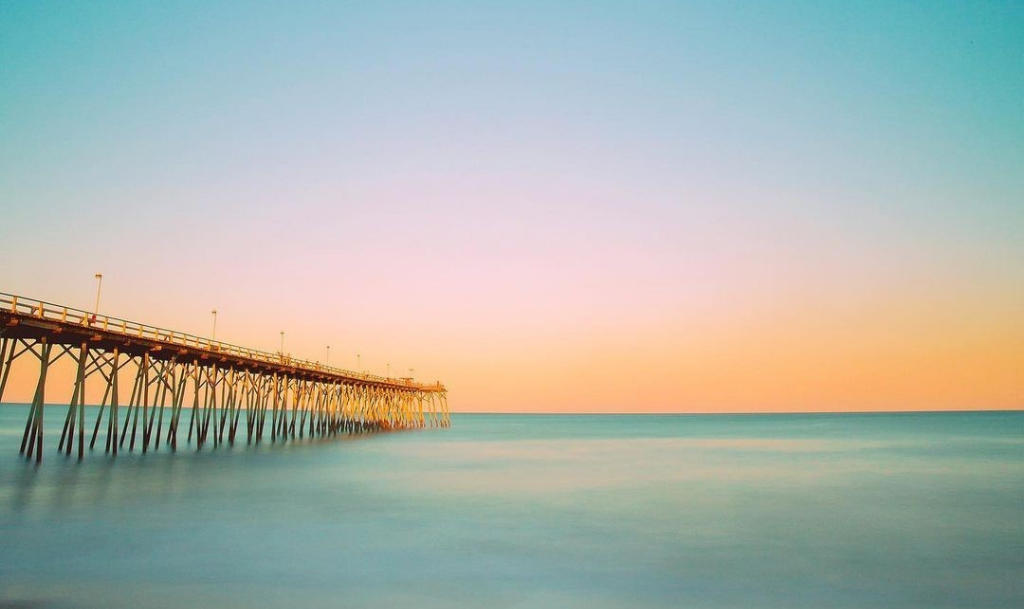 If you are looking for an excursion in North Carolina, you can't miss Carolina Beach State Park. This park is beloved by outdoor enthusiasts, tourists, and locals alike. Covering 761 acres of protected land, the park offers something for everyone. Located on the northernmost point of Carolina Beach, facing the Intracoastal Waterway, you can find the park entrance at 1010 State Park Rd.
In particular, it provides some of the most impressive sights of local plant and animal life in the state of North Carolina. This guide will highlight some of the can't-miss features of Carolina Beach State Park and attractions in the surrounding area. 
Things To Do In The Park
There are countless things to do at Carolina Beach State Park. This sprawling piece of land on Pleasure Island includes beautiful waterways, campgrounds, picnic area, a relaxing beach, and public amenities.
The park is known for its unique plant and animal habitats, which you can experience on a guided tour from local experts. There are also regular events both at the park itself and in the surrounding area of Wilmington.
Here are the top activities for visitors at Carolina Beach State Park.
Hiking And Trail Exploration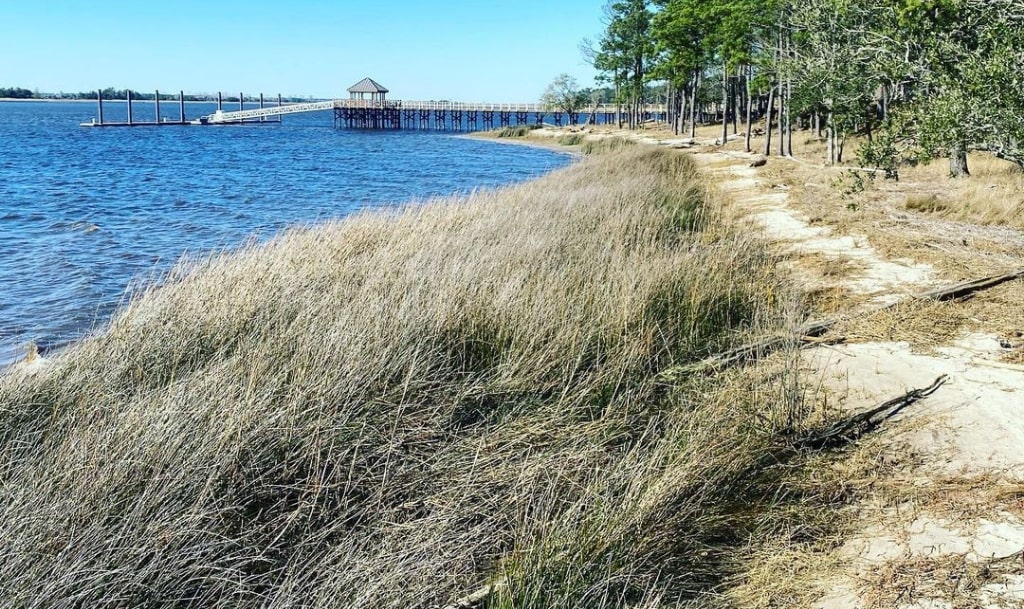 Carolina Beach State Park is home to seven miles of hiking trails. Here, you can see some of the most beautiful natural plant life in the state. The nine distinct trails each offer a different experience through a variety of ecosystems. Here, you will find options for quick jaunts alongside the Atlantic Ocean, a stroll overlooking the sand dunes, or long treks to use up the day. Some of these trails are handicap accessible.
The trails bring hikers along the banks of the Cape Fear River and Snow's Cut. There are options for picnicking close to the marina, with shady sections providing picnic tables and grills. You can pick up some goods at the marina store if you forget to pack your own lunch. You can also find water fountains, public bathrooms, and parking.
Fishing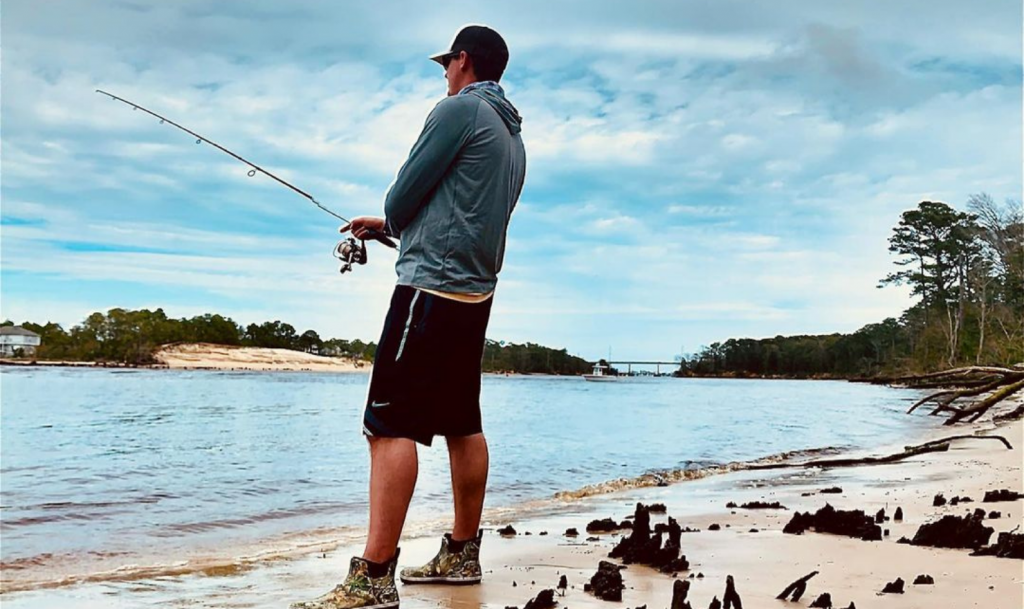 Carolina Beach State Park is a popular place for fishing enthusiasts. There are multiple spots for the public to cast a line, either in the ocean or Cape Fear. If you want to fish in the marina, there are two boat launches available, although access requires payment. But if you want to fish for free, you can find many great spots throughout the park, including the wheelchair-friendly fishing deck. 
Bear in mind that you will need a North Carolina Coastal Recreational Fishing License to fish in the park. But if you have one, you can enjoy catching one of the local species. These include flounder, speckled trout, sheepshead, and spot.
Boating And Kayaking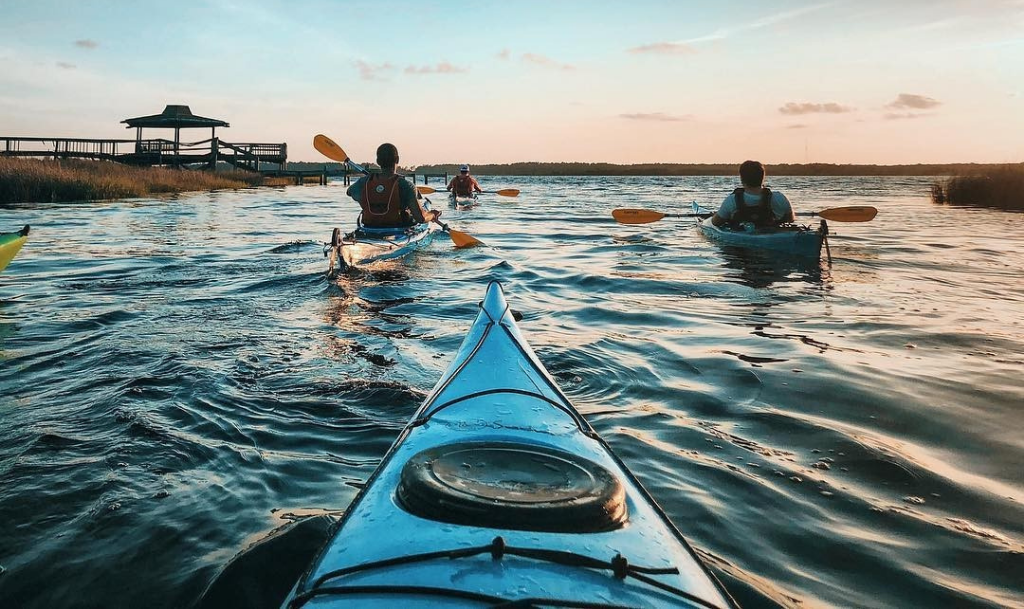 Boating is another popular activity at Carolina Beach State Park. There are several waterways offering distinct experiences along Cape Fear River, Snow's Cut, Masonboro Sound, and of course, the ocean itself.
Visitors can find kayak and paddleboard rentals during certain times of the year. There are also guided tours. If you own a motorized boat, you may access the marina and its public boat ramps and fuel dock. The marina provides many public facilities, including fuel, food, fishing supplies, restrooms, and showers.
The park is known for its rough tidal waters, so visitors should practice good water safety at all times. Swimming should not occur at Carolina Beach State Park due to the strong tides.
Camping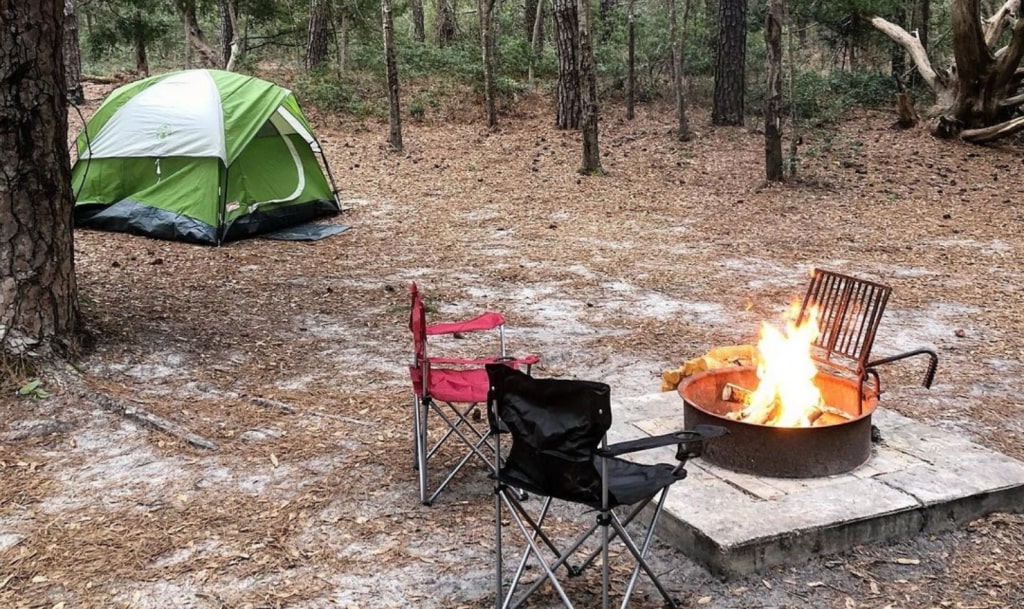 The park is a popular place for camping, with acres of undeveloped land. Visitors can find a spot at one of the 83 group camping sites throughout the grounds.
These include public facilities like restrooms, bathhouses, and barbecue pits. Many are also wheelchair-accessible.
Those who prefer to stay in a cabin may rent one of the park's four camper cabins. These facilities include bunk beds and climate control, including air conditioning and full hookups for other tools.
You may need to make a reservation to use the campgrounds during busy parts of the year, especially holiday weekends. Depending on when you plan to stay, you may need to pledge to a two-night minimum.
Camping areas may also require visitors to review safety guidelines for building fire pits and following other protocols.
Educational Tours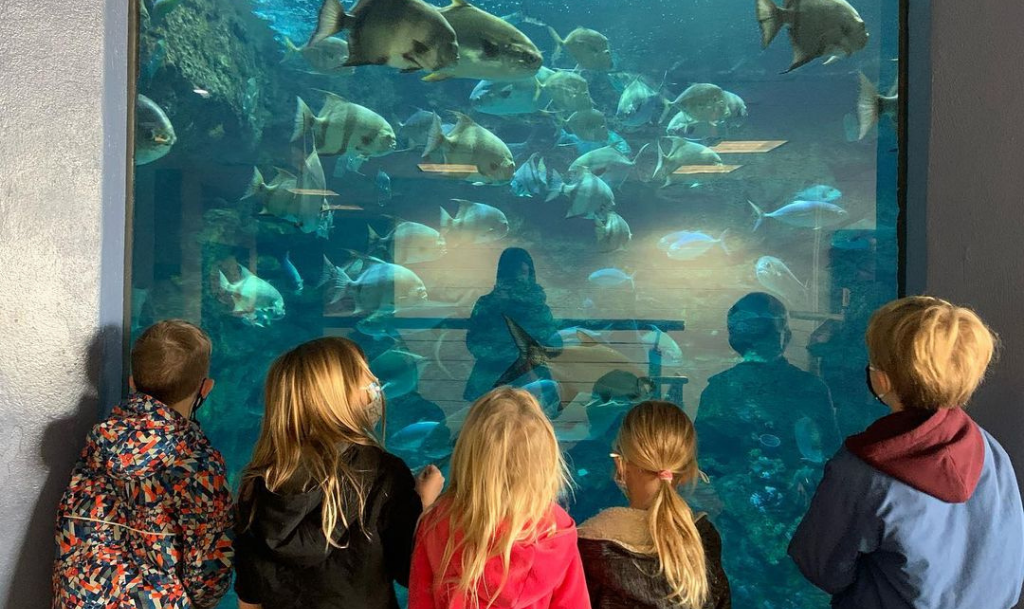 If you stop by the visitors' center, you will find information on the fantastic local animal and plant life at Carolina Beach State Park. There is a lot to learn just in the building itself. But that is not the only educational resource of which to take advantage of at the park. Park staff also offer guided tours of the local hiking trail. This gives visitors the chance to experience the native species, including unique carnivorous plants and out-of-the-way vistas.
The visitor center itself has many interesting exhibits. These include games, activities, and educational displays about the local attractions, including the diverse plant life.
The park features tours every Saturday. These range from explorations of plant life to hikes through the wetlands as well as wildlife tours and more. Many of these events are publicly funded and therefore free to visitors.
Picnicking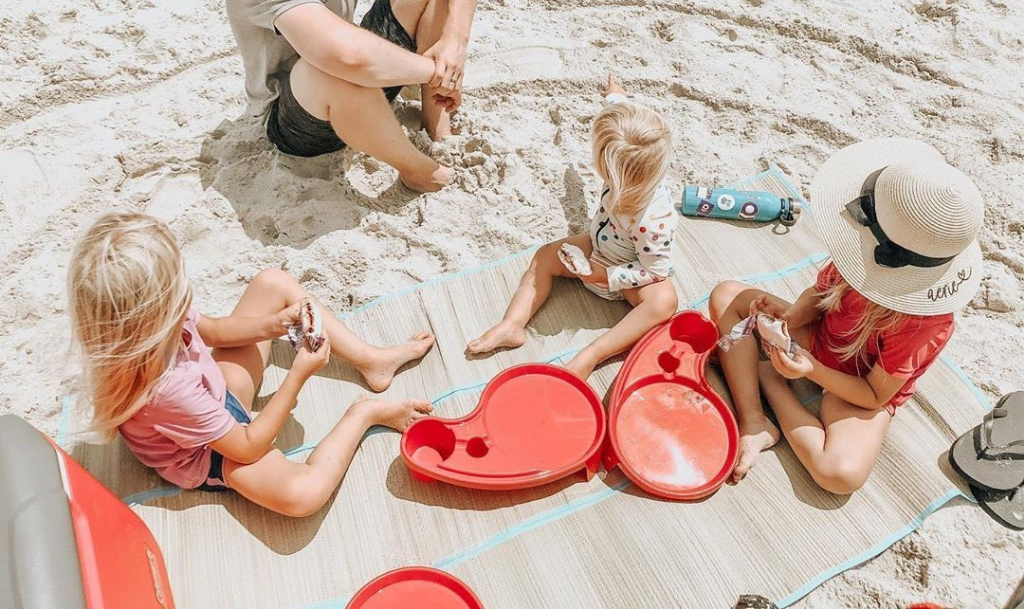 Picnicking is an excellent way to enjoy the sights and sounds of Carolina Beach State Park, all while relaxing with our family. There are a variety of picnic grounds around the park. These offer public amenities like picnic tables, barbecue pits, restrooms, and water fountains. Many of these are also in pleasant shaded areas.
Visitors can enjoy a meal under the oak trees and within sight of one of the park's many waterways, including the marina. Some visitors use the nearby public parking to access the picnic grounds. Others include a picnic as part of their hike along one of the park's nine trails.
Local Events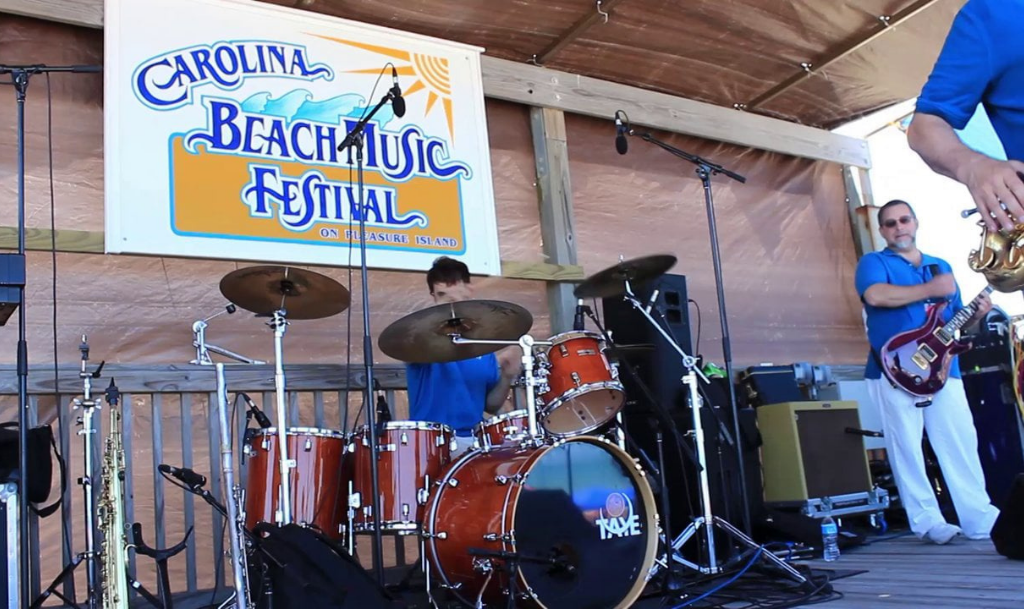 Carolina Beach State Park hosts many events throughout the year. It's an especially popular and fun place to spend Labor Day and 4th of July. If you live in the area, check your local guides to see what is going on. These include everything from annual marathons to local arts festivals and more. Some of these vary by year, while others are recurring events that draw locals and tourists alike. 
The events span from the state park itself to the nearby towns. They include everything from street festivals to concerts, sports events, and family-friendly activities. No matter when you are in the area, it is worth seeing what events are happening during your stay.
What Is Great About Carolina Beach State Park
There are countless reasons why Carolina Beach State Park continues to draw thousands of visitors every year. Even those that don't partake in guided or scheduled activities love to visit. Here are some of the things that make Carolina Beach State Park so popular, even beyond fun beach activities or planned events. 
Plant And Animal Life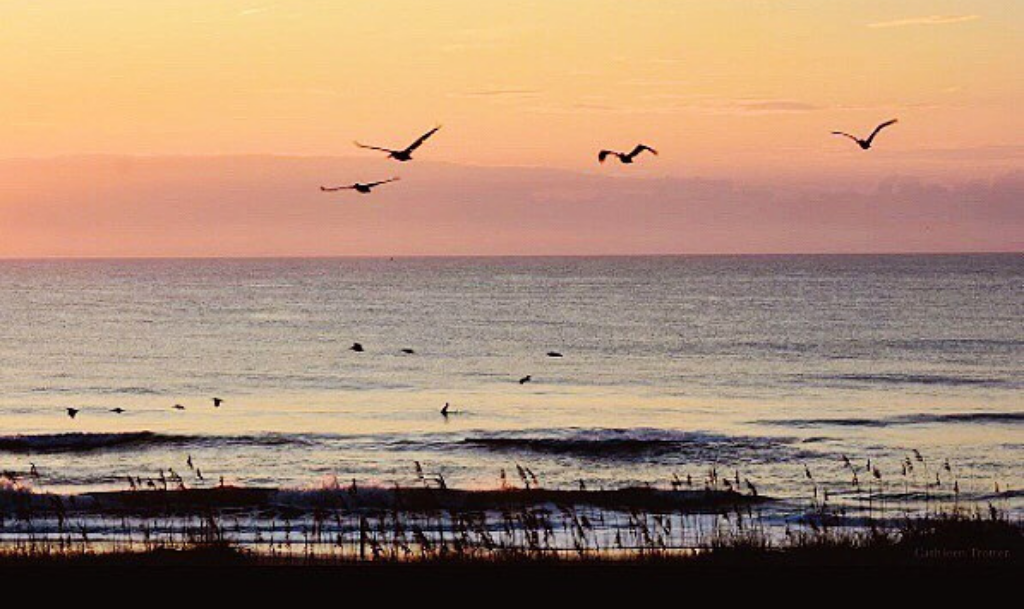 The park has a varied and fascinating local ecology. This means that visitors have the chance to see some fascinating local plant and animal life. Pleasant Island is a popular spot for birdwatching, serving as a migration point for many rare bird species. Additionally, the wetlands are home to several distinct species of frogs and other amphibians and reptiles. Visitors might also spot otters, foxes, deer, and more.
Of particular interest to many people is the unique plant life. This includes local carnivorous plants, including Venus flytraps and pitcher plants. To see these plants up close and personal, I suggest you take a walk on the Flytrap Trail. The park is also home to three lime sink ponds, each of which has unique biology and plant life. 
Nearby Historical Sites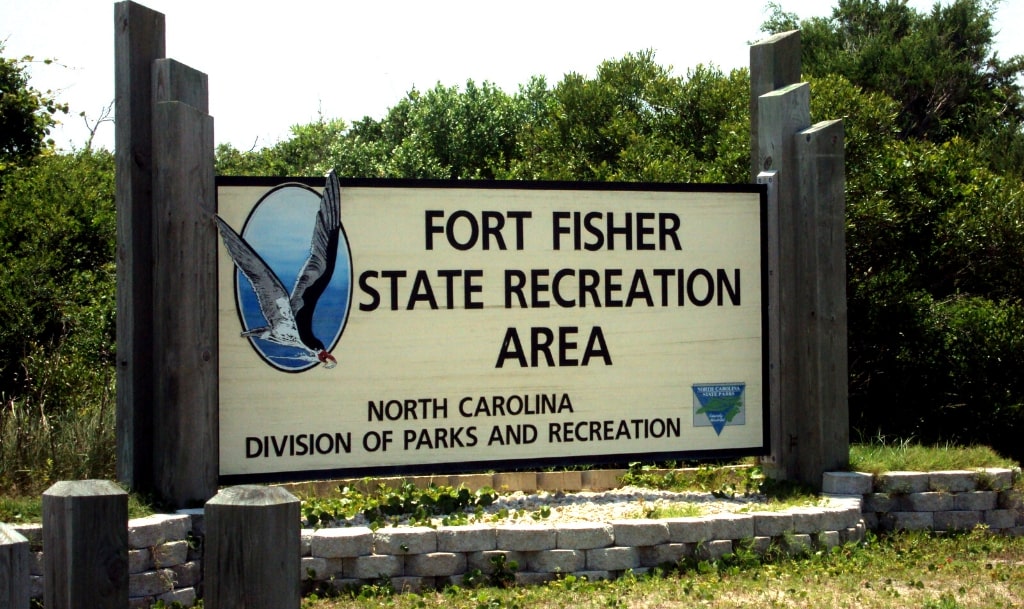 If you want to venture to Kure Beach in Wilmington, stop by the historic Fort Fisher State Recreation Area. This fort of the former Confederacy is now a state recreational area. Here, visitors can enjoy the beautiful beach or explore the hiking trails through the nearby salt marsh. This area is now known for its wildlife offerings, including loggerhead sea turtles and rare birds like piping plovers.
The local boardwalk offers a visitor center and places to fish. There are other activities available on nearby parts of the Fort Fisher Historic Site, including boating, paddling, and a state aquarium.
Things To Know Before Visiting
While there are dozens of excellent reasons to visit Carolina Beach State Park, there are a few things you should know before you go. Some of these things are unique to the area, while others are to be expected when visiting any outdoor recreational area. 
Prepare To Encounter Wildlife
Carolina Beach State Park is protected land that includes forests, wetlands, and other environments. As such, you can expect to encounter wildlife. The conditions in the wetlands are humid and muggy, which means that you will probably find mosquitos. Make sure you bring bug spray to avoid unpleasant insect bites.
Additionally, be on the lookout for snakes, especially in wet or wooded areas. Alligators have also sometimes been seen at the park, although this doesn't happen frequently.
Swimming Isn't Recommended
Not every beach is good for swimming. Although Carolina Beach State Park offers countless activities for boating, fishing, exploring, and spotting local wildlife, swimming is not recommended. This is because of local tidal activity, which can be intense, sudden, and dangerous. Visitors will see people on the water in boats, kayaks, and paddleboards, but rarely going for a swim.
Call Ahead For Availability
The park is a popular spot for campers, nature lovers, and tourists. During busy times of the year, it may be challenging to find a reservation for boats, campsites, and parking. If you are not sure about availability, contact park officials through the public phone number. There are also contact numbers available for the marina and visitors' center if you have specific questions about these facilities.
Book a Vacation Today
If you are planning a trip to the North Carolina coast, Carolina Beach State Park is unmissable. This beautiful region is home to some of the most unique natural sights in the state, drawing thousands of visitors every year. With countless activities, there is something available for everyone's interest.
To inquire about availability and book your vacation, contact us. If you prefer, you can also take advantage of the local free activities available to tourists.