Located next to Wilmington, NC, Wrightsville Beach is perfect for couples, individuals, and families. With miles of pristine beaches and a laid-back vibe, Wrightsville is much less crowded and "touristy" than Myrtle Beach. If you're going to visit the water in North Carolina, you can't do much better than Wrightsville.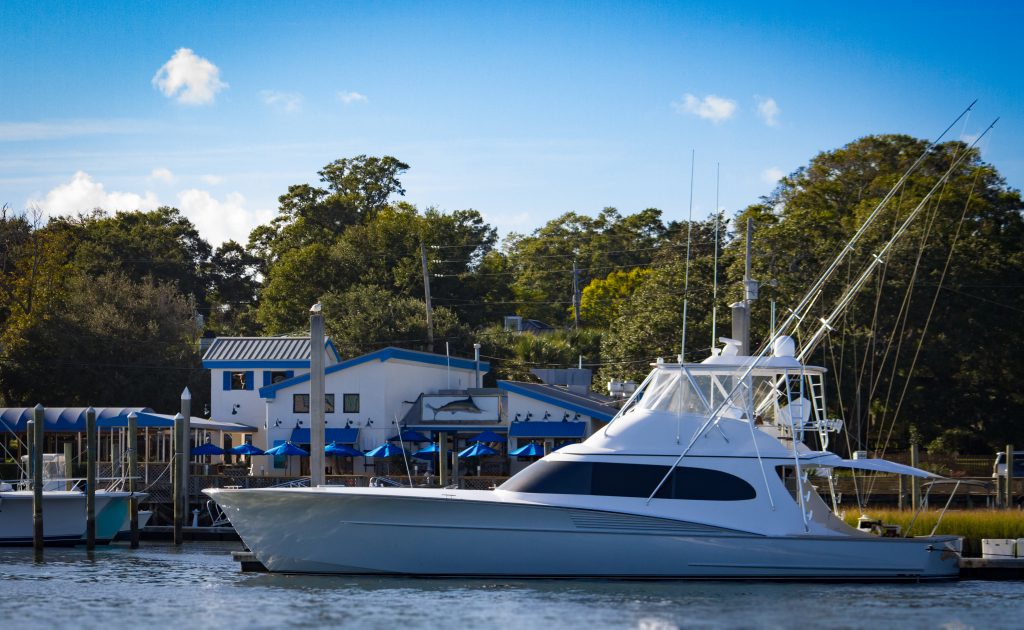 Speaking of water, the best way to experience the beach is from the comfort of a high-class waterfront restaurant. Fortunately, Wrightsville has quite a few waterfront locales that are perfect for brunch, lunch, and dinner. Spoiler alert, the area has more than its fair share of seafood grills.
So, with that in mind, let's dive in!
Kicking things off is this bar and grill on the western side of Wrightsville Beach. 22 North is located on the famous Lumina avenue, which hosts various hotels, bars, and restaurants. We'll be discussing all the top spots, including 22 North.
What sets this place apart from the others on Lumina ave is that it's only open for three days a week – Thursday through Saturday. Also, since 22 North is a bar, it's open until 2 a.m., although dinner ends at 9:30, so plan accordingly.
Speaking of dinner, the menu here is pretty much what you'd expect. You can choose from Mahi Mahi tacos, a captain's platter of fresh seafood, Bayou gator bites, and pulled pork sliders. One notable mention is the Osso Bucco, which is perfect if you want to be fancy during your stay.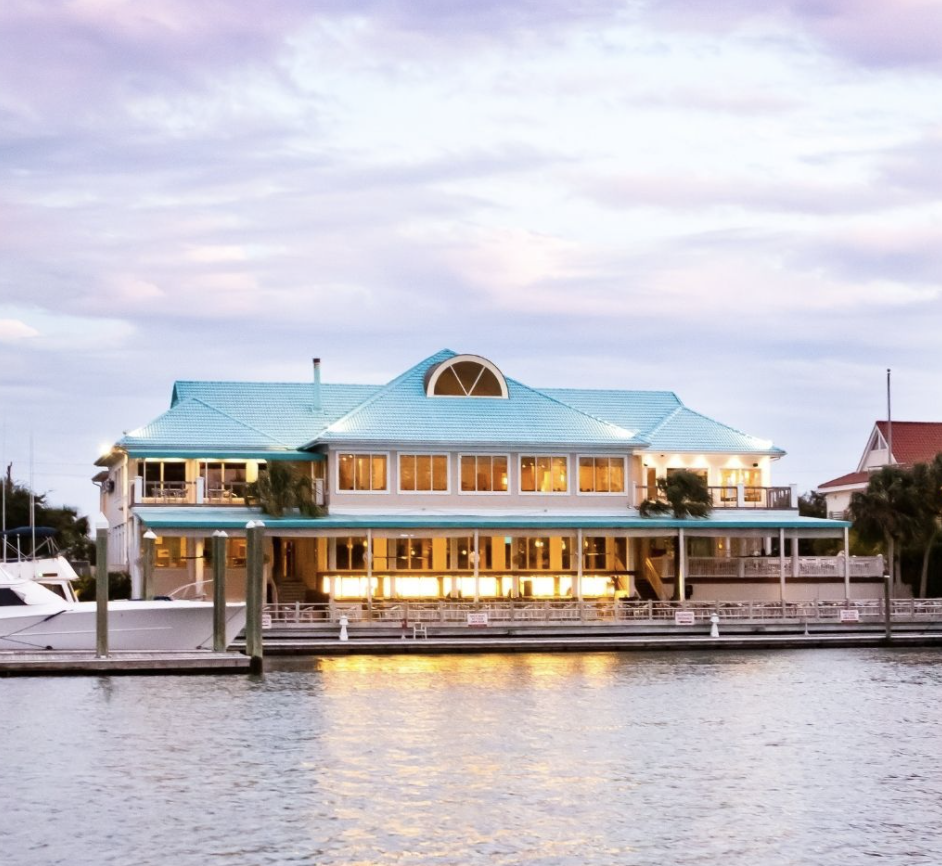 When visiting Wrightsville Beach, you'll notice that the city is divided into two distinct waterfront areas. The first is beachside, with hits like 22 North. The second is further inland, where the land is carved into canals and causeways. That's where you'll find places like the Bluewater Grill.
Since the ocean is practically next door, seafood is the name of the game at Bluewater. There's something special about eating dishes like Mahi-Mahi and coconut shrimp while enjoying waterfront views. The two elements go hand-in-hand, much like Bluewater's appetizers go with the main course.
Vegetarians can also indulge at Bluewater with high-end salads and roasted vegetables for the whole table. Choose from broccoli, broccolini, Brussels sprouts, or asparagus.
One notable monument in Wrightsville is the Wrightsville Beach Drawbridge, which crosses over the causeway. Nestled beneath the bridge is The Bridge Tender Steakhouse, which offers excellent views of the landmark as it opens and closes. Be sure to book outdoor seating if you want to see the bridge in all its glory.
Since this is a classy steakhouse and seafood restaurant, The Bridge Tender is only open for dinner, although you can come for brunch on Sundays. If you want to view the sunset from your table, you need to make reservations during their "Sunset Special," which runs from four to six p.m.
As far as food goes, the restaurant is known for its crab-stuffed flounder, medium-rare tuna, and the filet mignon. However, if you're not in the mood for pricey (yet tasty) dishes, you can order from the "casual menu." There, you'll find favorites like fried shrimp, chicken tenders, and the house burger.
Just down the road from The Bridge Tender is the Dockside Restaurant, which sits on the western edge of the causeway. As with The Bridge Tender, sunsets are gorgeous here, although the atmosphere is decidedly less haughty and more laid-back. To give you an idea of the difference, Dockside also includes a boating goods store so that you can buy provisions before hitting the water.
The menu consists of both fried and fresh seafood, which you can get by itself or in a sandwich. We highly recommend the Tsunami Shrimp (tossed in spicy honey-fire sauce) or the flounder (boiled). You can also try the catch of the day if you're feeling a bit saucy and want to get an authentic taste of North Carolina coastal cuisine.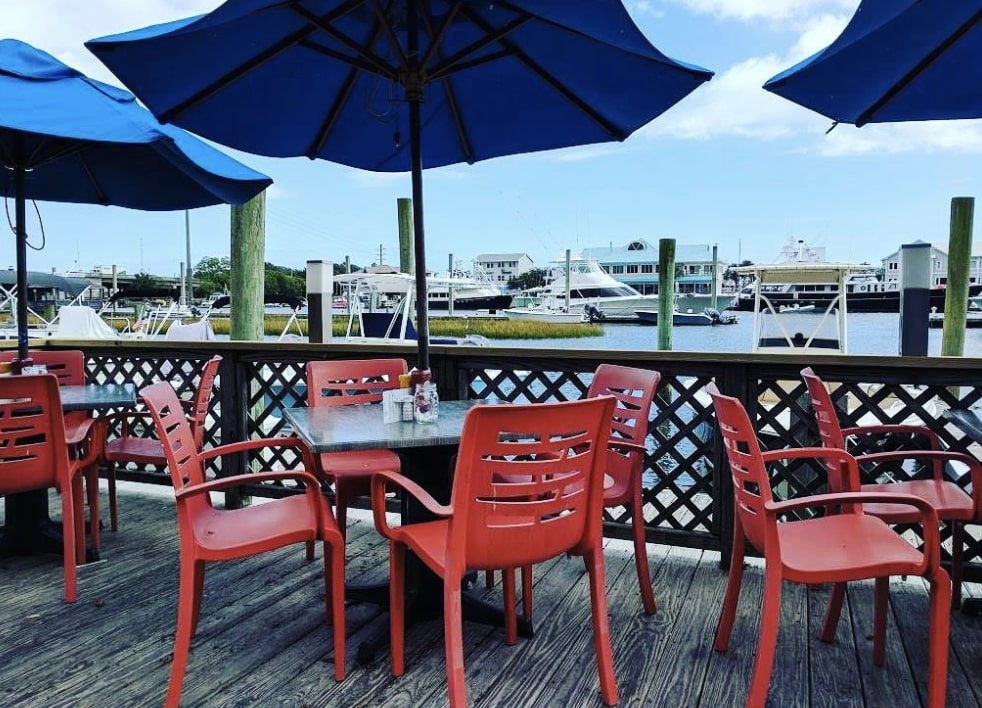 We said that there are a lot of grills in Wrightsville! The Fish House is between The Bridge Tender and Dockside, so you could theoretically try all three in sequence if you wanted. The appetizers at each restaurant are incredible, so you can get a sample without busting your gut (or your wallet).
As the name implies, practically everything here is seafood, from the fish stew to the fried seafood platter. However, the Fish House does some pretty excellent fish and shrimp tacos, which are perfect for a comforting dining experience. For non-seafood lovers, the Fish House also offers chicken and a burger.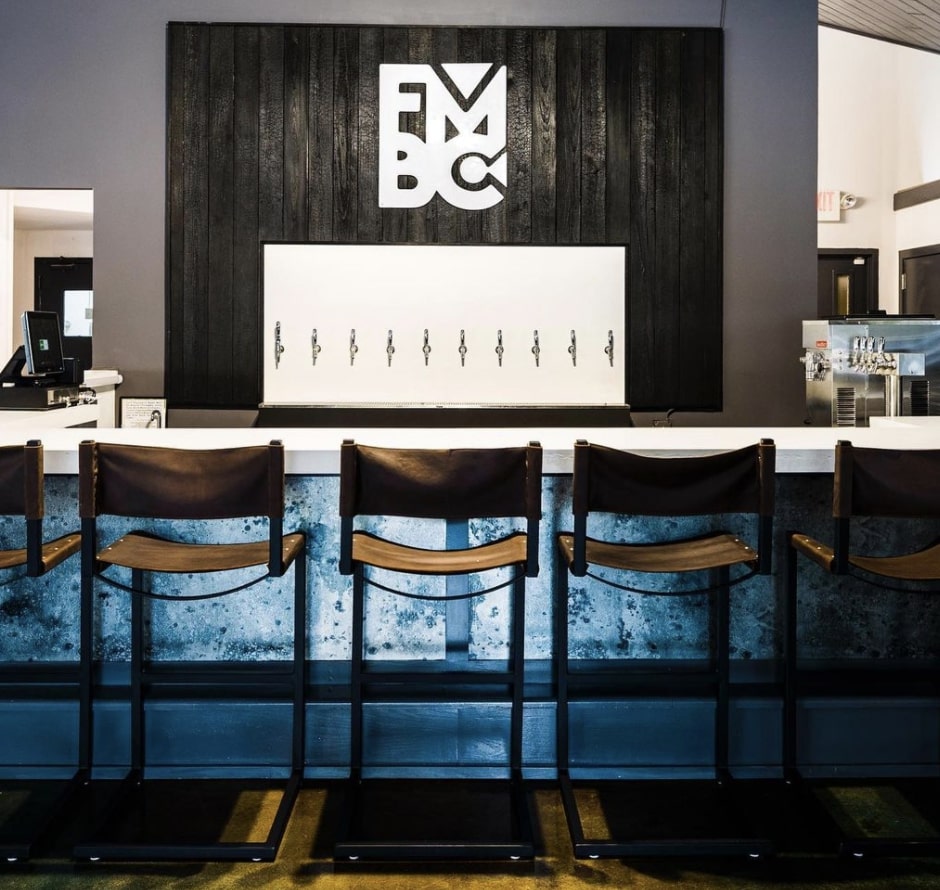 When it comes to East oceanfront dining, you can choose something fancy like Bluewater or a place that's more down-home like the Flying Machine. As a taproom, this restaurant has a relaxed atmosphere perfect for families and friends. Whether you just want a pint or you want an excellent burger, Flying Machine has you covered.
Although this place does offer the typical seafood dishes you'd expect from a waterfront restaurant, it shines with its beer and burger selection. Highlights include the Beach Shrimp Burger, the Falafel and Cauliflower Burger, and the Flying Machine Burger (with house-made beer cheese).
If you're intent on fresh seafood, you can order the catch of the day or locally-sourced fish and chips. You can also get seared Yellowfin tuna as an appetizer. Otherwise, the Flying Machine specializes in land-based dishes.
Since most waterfront restaurants are beach-themed, Poe's Tavern stands out from the crowd. This spot is technically a chain, with three eateries spread across the Eastern seaboard. Poe stands for Edgar Allen Poe, so the atmosphere is a bit Gothic, and the menu follows suit.
For example, you can't just order a burger at the Tavern. Instead, you have to pick from names of Poe's work, including The Tell-Tale Heart (fried egg and bacon), The Raven (plain), or the Rue Morgue (a deconstructed bunless burger with chili and queso).
Since this is a tavern, you can also sample some exquisite cocktails to accompany your meal. The Poe's Punch is a specialty, but be aware that it packs a punch (hence the name).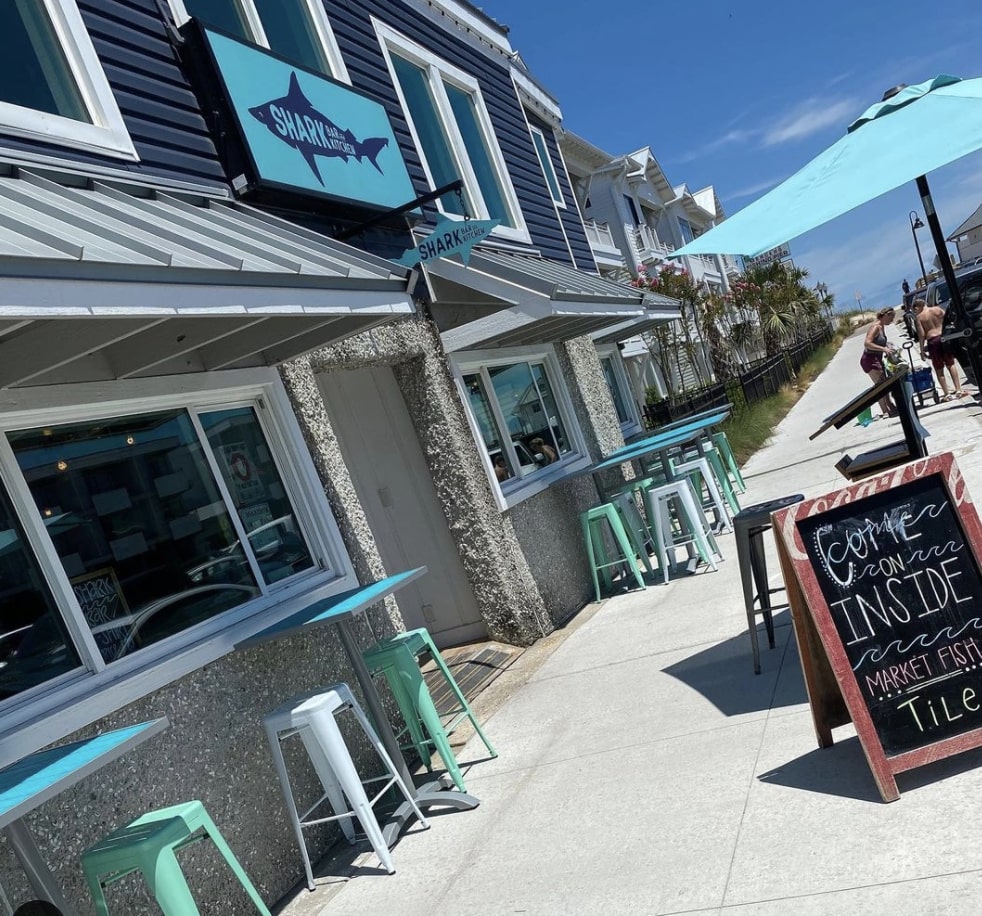 If you're coming to Wrightsville Beach, you might as well try your hand at fishing. One of the best spots is Johnnie Mercers Fishing Pier, which sits next to the ocean. If you don't wind up with anything on your hook, you can hop next door to the Shark Bar and Kitchen for a quick bite.
This place focuses on locally-sourced, sustainable cooking, so you can feel good about eating everything on the menu. We highly recommend specialties like the Firecracker Shrimp, the Maine lobster roll, and the flounder au gratin. The Kitchen also serves a mean crab cake sandwich, and you can never go wrong with fish tacos. The menu is a bit pricey, but you're paying for quality and seafood that is so fresh it's practically wriggling on the plate.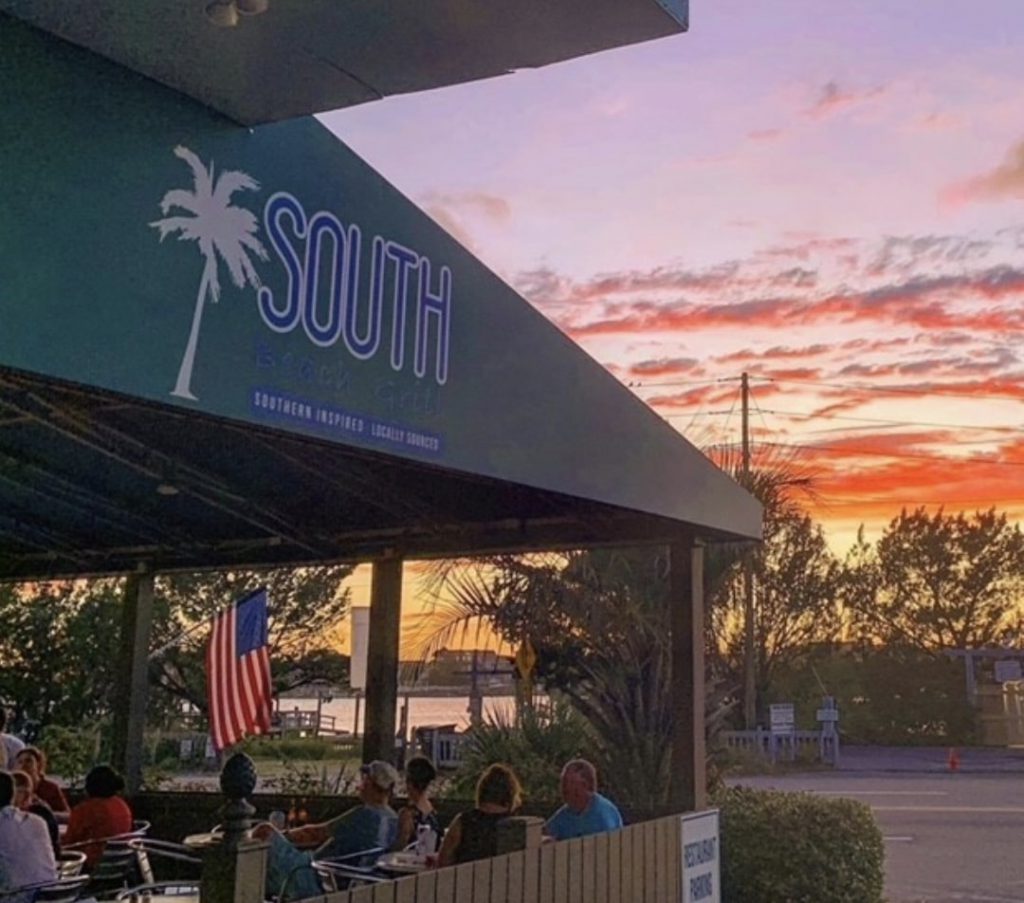 Located on Lumina Avenue, South Beach Grill faces the Banks Channel and the bridge that connects the beach to downtown Wilmington. As with other seafood restaurants in the city, South Beach focuses on locally-caught dishes. You can even get a "sea-cuterie" plate, complete with cheeses, Granny Smith apples, and chef-picked seafood.
Other highlights include the seafood Napoleon, the Makers Mark salad (with whiskey and honey dressing), and the crab and seafood nachos. The entire menu is awash with high-class eats.
Closing out our list is yet another grill, although this one is certainly unique compared to the others. As you might imagine, Tower 7 focuses primarily on Mexican dishes like enchiladas, tacos, and quesadillas. Since this is a waterfront restaurant, most options come with fish or shrimp, although you can get land-based favorites like pulled pork, chorizo sausage, and marinated chicken.
Overall, waterfront dining in Wrightsville Beach is sure to keep you coming back for more!