There's beauty to be found at every turn on Topsail Island. The beloved North Carolina hideaway captures a sense of tranquility and small-town appeal, offering a little break from the fast pace of everyday life. Situated approximately 40 miles from Wilmington, this coastal gem brims with charm and personality.
Here, you'll find a trio of beachside enclaves that are so beautiful you may feel as though you've stepped into the pages of a magazine. It's just half an hour from Sneads Ferry and less than an hour's drive north of Wilmington, so it also happens to be extra convenient.
Whether you're in Surf City, North Topsail Beach, or Topsail Beach, expect a vibrant bar scene to greet you, too. That's the hallmark of a great beach town, after all — and with each town offering its own special appeal, you can expect the same distinctive traits of their respective watering holes, too.
Whether you're looking for a laid-back dive bar, want to catch the big game at a sports bar, or would prefer a full menu complete with tasty grub, odds are you'll find just what you're looking for at Topsail beach bars. Here are some of the stops you absolutely must visit — for everything from the nightlife to the drinks to the great food.
The Trailer Bar: For a Casual Hang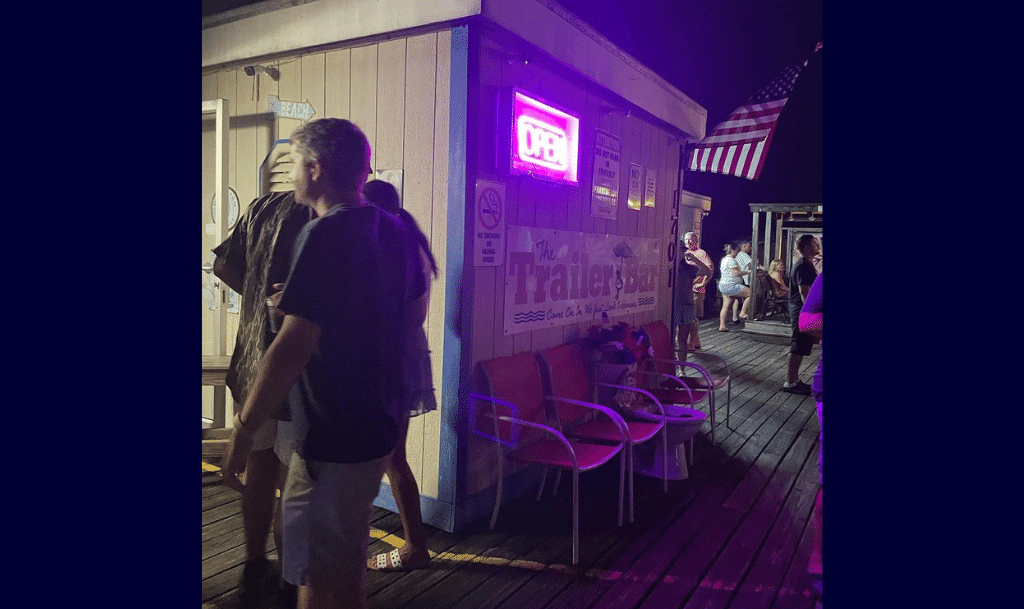 If it's that local feel you covet, you'll appreciate every minute of your time at The Trailer Bar. It's not actually a trailer. There's a white porcelain toilet bowl out front, too, but that serves as a summertime ashtray and a holiday planter during the cooler months.
This stop is essentially a who's who and what's what of all that's cool, chill, and laid back on Topsail Island. Glance anywhere and you'll spot some form of quirky outwork. Even the ceiling tiles are unique, with bold images that celebrate everyone from loyal customers to neighboring businesses. Menus are etched on chalkboards, while whiteboards advertise current specials and live music.
You don't need to be a local to enjoy the vibe here. Anyone can enjoy a good time, after all, and that's what you'll experience at this spot known for everything from its personable bartenders to its karaoke nights.
Tiki Bar: For a Tropical Vibe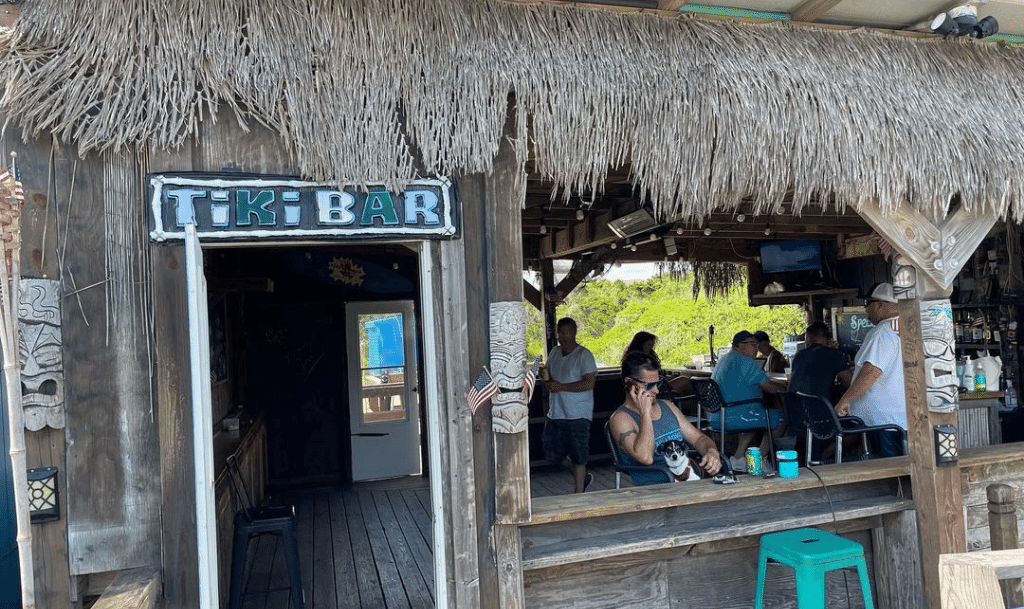 The one and only tiki bar on North Topsail Beach definitely deserves a mention. It lives up to its name in every way — think fun, fresh, tropical, and playful. It's also a great place to sit outside and soak up the amazing ambiance you can really only experience on Topsail Island.
There's a little bit of everything here, from the usual brews to fruity cocktails. Got a hankering for some cornhole? Maybe some beach volleyball? How about seriously affordable prices? All of the above come with the territory at this vibrant little spot that brings plenty of joy. Snag yourself a burger, indulge in a margarita, and enjoy the beach views.
Beach Bum's Pizza Bar & Grill: For Some Good Grub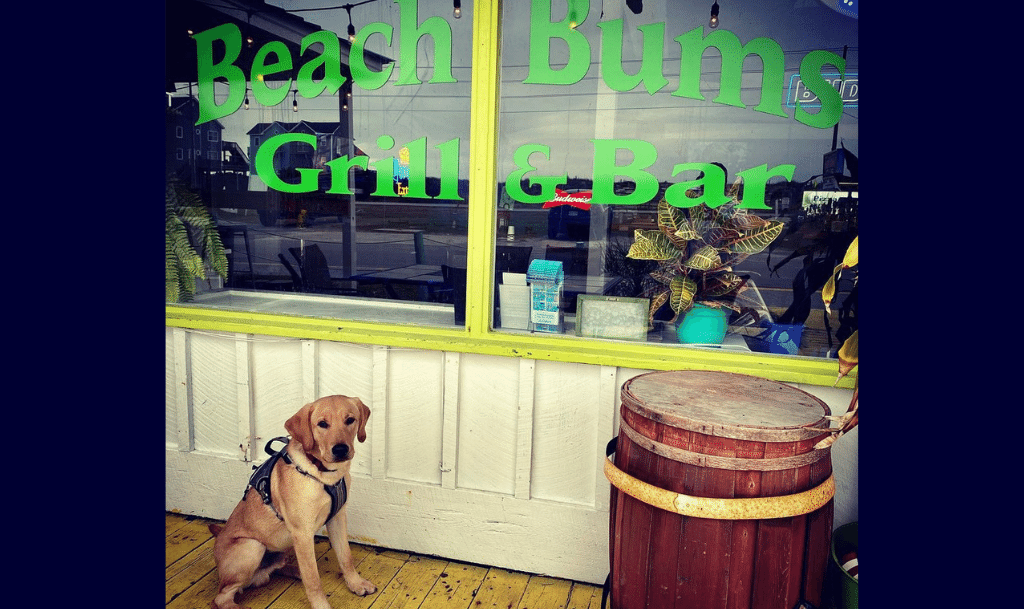 It's the rare bar that serves up food as great as its drinks. At Beach Bum's Pizza Bar & Grill, though, that's exactly what you can expect. Don't be fooled by its compact size — they've got a menu full of draft beers and specialty drinks, along with a variety of pizzas. The star of the show, according to locals, is Beach Bum's Original Cheese Bread.
Topped with Italian herbs and mozzarella cheese, it's a gooey, delicious, anytime treat that will hit the spot with an ice cold brew. They've got several other cheese bread varieties, too, along with chicken wings, sandwiches, wraps, and salads. In other words, there's something for all the beach bums on this well-rounded menu.
Beach Shop & Grill: For Old-School Cool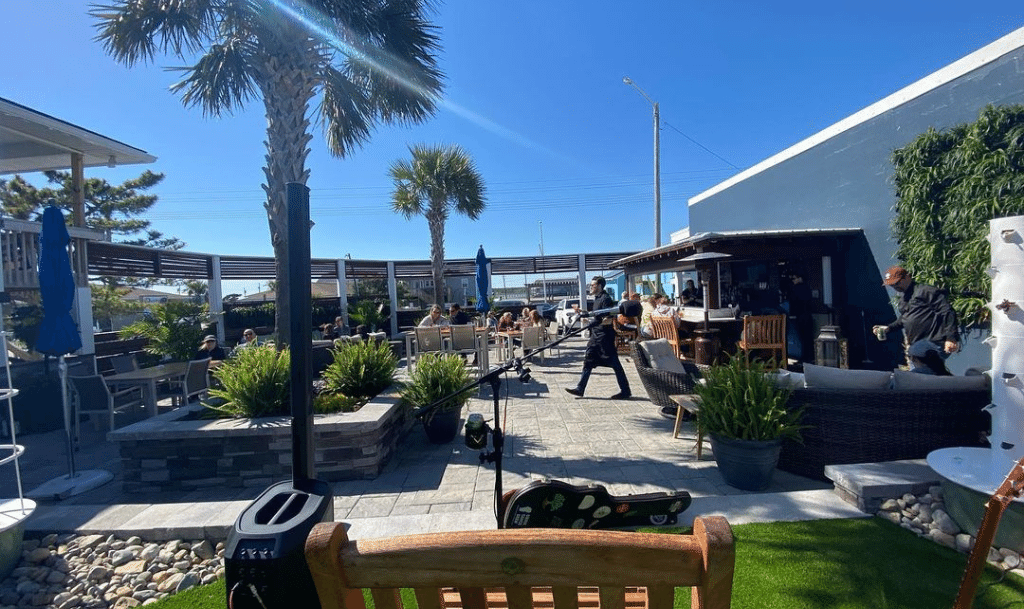 People from far and wide come to the Beach Shop & Grill to see why there's so much fuss about it. It won't take long to understand all the hype. Here's where you'll experience seriously raved-about seafood, the richest desserts around, and a medley of unique cocktails you won't find anywhere else.
More of a craft beer type? That's on the menu, too. If you prefer to dine outside, there's a diverse patio menu featuring some warm-weather favorites, like blackberry salad, a seafood tower, and the hearty SmashBurger. As for that old-school vibe, it all comes back to ambiance. Once upon a time, this was a buzzy 1950s soda shop.
Though it's a charming bistro now, hints of its rich past still remain. Stop by the on-site beach shop to grab a few essential souvenirs, from T-shirts to magnets.
Gallagher's High Waters Sport Bar and Grill: For the Big Game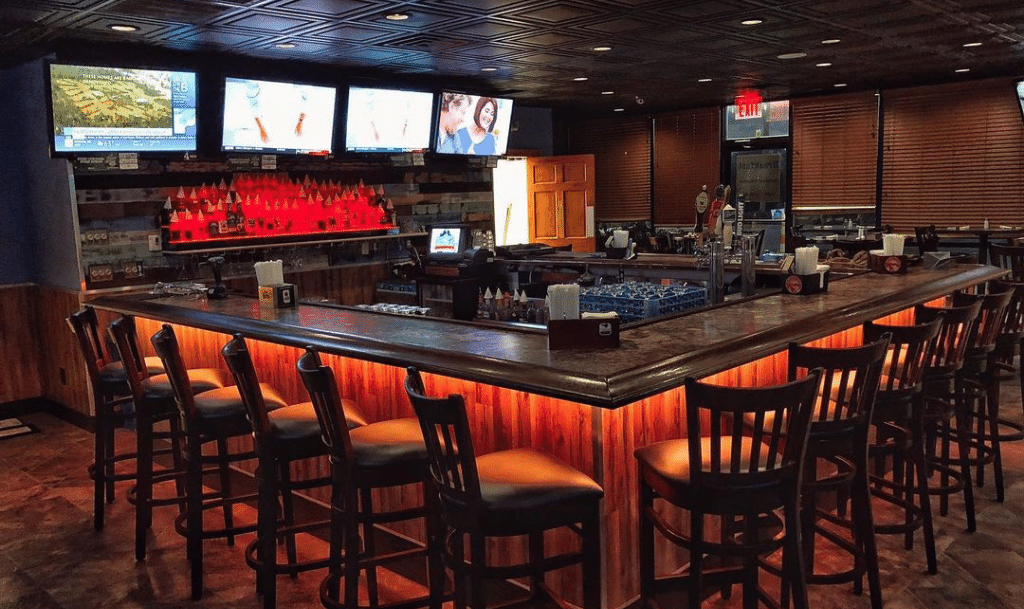 If you happen to be in town during football season, odds are you won't want to miss your team — even if sun and surf do happen to beckon at every turn. Who can blame you if you're a true blue fan? To ensure you don't miss a single touchdown, head to Gallagher's High Waters Sports Bar and Grill.
The Surf City hotspot is one of the area's most popular options for lunch and dinner. The menu is, of course, filled with the best of the best — think fresh local seafood, hearty burgers, and flavorful wings. Snag a seat at the bar and catch up on the day's sports while digging into what's destined to be an instant favorite meal.
Quarter Moon Books & Gifts: For a Chic Experience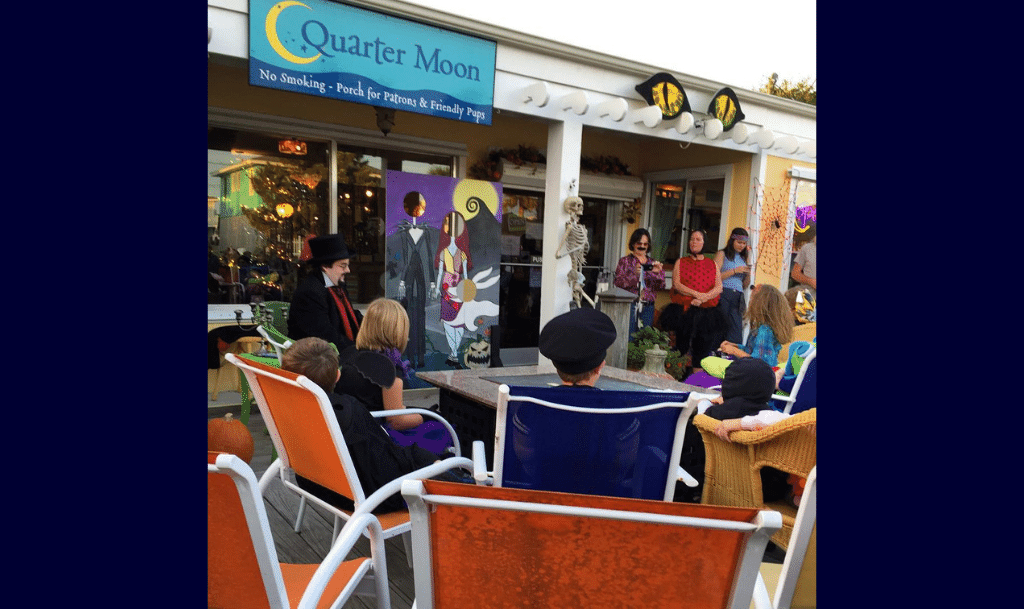 If you prefer a more refined bar experience, head to Quarter Moon Books & Gifts. As much a family-friendly haunt as a chic wine bar, this establishment offers everything from gifts and clothes to fresh coffee and live music. It's definitely the type of place you'll want to stop in and stay for a while, especially once you sneak a peek at their extensive selection of wines.
Natural wine is a unique highlight, and there are also smoothies if you need to cool down after a long day cruising the shops and admiring the sights from Roland Ave. This place is just as cozy as it sounds, from the plush seats lining the bar to the charming seating nook outside.
Daddy Mac's Beach Grille: For a Breezy Escape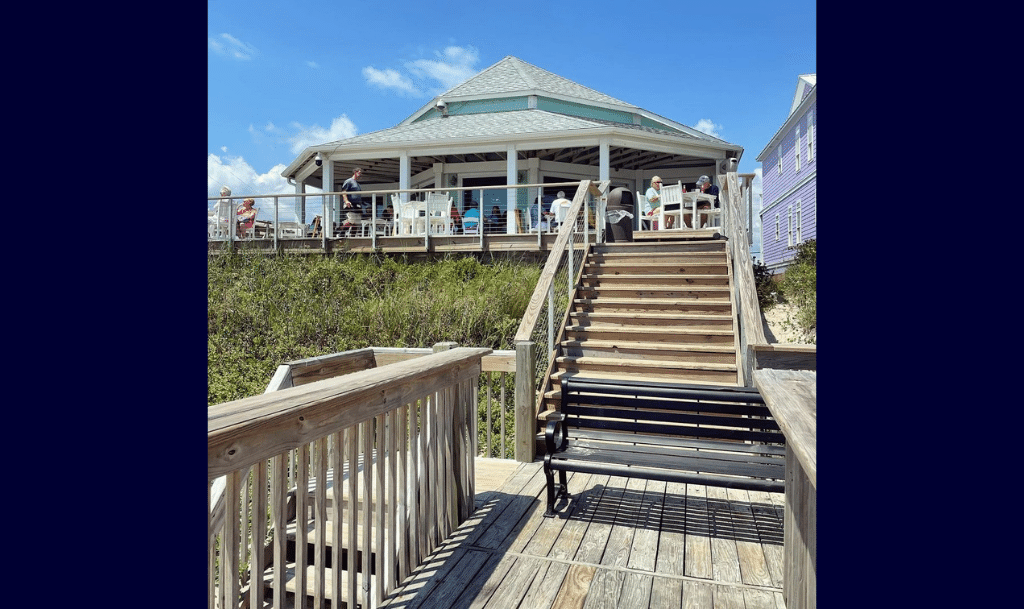 Coastal cuisine is the specialty at Daddy Mac's Beach Grille, a Surf City staple where people can come to relax and enjoy the ambiance or watch the surfers do their thing. If you're lucky, you might catch area fishermen hard at work. It's a calming, relaxed, and utterly breezy beach experience thanks to its prime location on the water.
It's hard to resist that kind of vibe. Come for brunch and enjoy a Bloody Mary or a mimosa with your meal. They're known for their crab cakes and steaks, so bring your appetite if you're planning on enjoying at least one epic meal during your time on Topsail Island. (If you're so inclined, you can even order take out and take it back to your beach rental.)
Salty Turtle Beer Company: For the Best Beers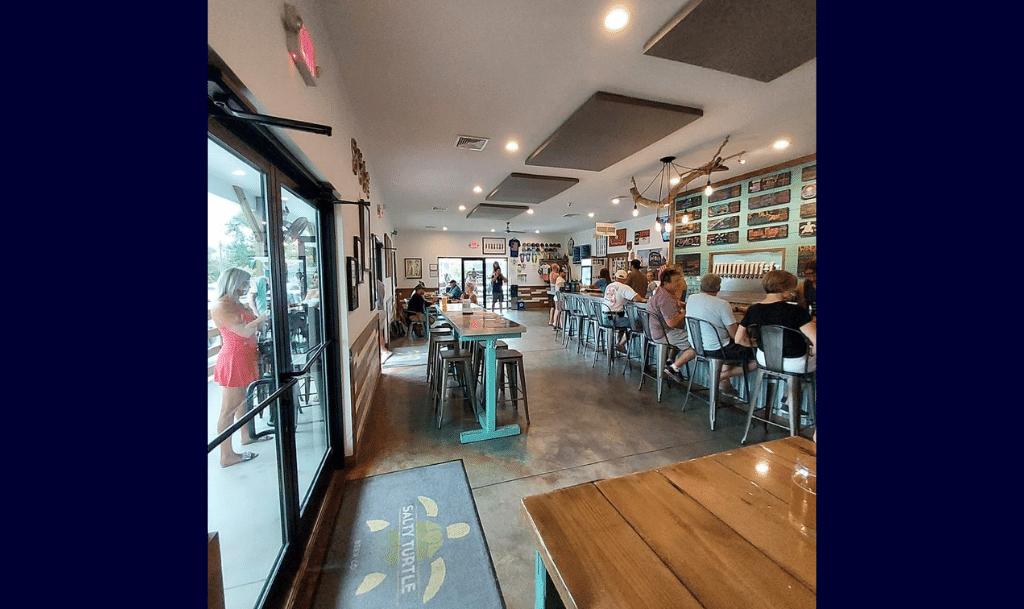 To say the team at Salty Turtle Beer Company knows its beer is an understatement. Founded by former United States Marines, the buzzy establishment is all about the brews. Cold beer is of the top-notch variety, with flavors ranging from simple and mild to bold and adventurous.
There's room for every palate on the menu. They're proud to host an array of fundraising events for all sorts of good causes, making the experience here even more meaningful. Come by the tap room to experiment with everything from Urfizz Blueberry Lemon to Alligator Bay to Barnacle Bill's Brown Ale. You have to taste it to believe it.
—
You may need to book more than an extra visit to eat and drink your way through the vibrant bar scene on Topsail Island. Coupled with the fact that you've got beautiful weather, gorgeous sunsets, and plenty of fresh seafood on the menu, there's no reason not to book your next stay — and make plans for that next drink while you're at it.