Let your toes splay in the warm, white sands of the beach while the sky lights aflame with the reds, golds, pinks, and yellows of the sunset. A cool, wet breeze runs through your hair as you wait on delicious fresh seafood from a local restaurant.
We know the feeling; you're enjoying the time of your life at your vacation rental in Pleasure Island, North Carolina.
The history, nature, fresh food, abundant daytime activities, and nightlife of the North Carolina coast make Pleasure Island the perfect vacation destination. But where do you start? There's so much to see it's difficult to pinpoint the best activities. We'll help you out with our complete guide on to get the most out of exploring this vibrant island.
Pleasure Island History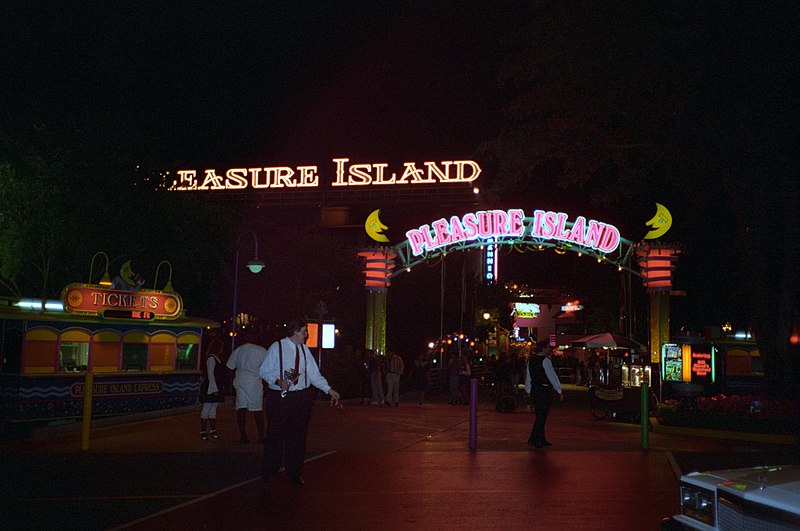 Pleasure Island wasn't always an island. Instead, it was a peninsula until 1930, when Snow's Cut, which connects the Intracoastal Waterway to the Cape Fear River, was completed. In fact, this peninsula was actually called Federal Point until 1972, when it finally adopted Pleasure Island.
Pleasure Island is an island made up of three towns: Carolina Beach, Kure Beach, and Fort Fisher. It's a beautiful and charming border island just south of Wilmington in New Hanover County.
This area is not quite as touristy as similar beach towns in the Carolinas, like Myrtle Beach. Instead, you'll get more of a "locals only" feel. This is a beach area perfect for your family vacation, a romantic couples getaway, or for retirees looking to have a relaxing holiday.
Must Do Activities on Pleasure Island
1. Ocean Front Park and Pavilion
Address: 105 Atlantic Ave, Kure Beach, NC
Pro Tip: Thinking of a spot to tie the knot? Ocean Front Park and Pavilion area is so stunning that it attracts plenty of brides and grooms-to-be.
One of the lesser-visited gems on Pleasure Island, Ocean Front Park is a delightful little family-friendly beach. It has amenities like restrooms, a playground for the kiddos, and much-needed shade in the summer.
Packed with fun things to do, the Ocean Front Park and Pavillions are ready to entertain. Grab an ice cream, sit on the beach, and watch dolphins play in the waves as the sun sets. Or, come early and sit on a swing overlooking the ocean and revel in the magnificent watercolor sky.
After the sun rises, take a walk over to grab coffee at the Happy Hippies Java Hut, where they offer smoothies and signature lattes like the "Bomb Diggity" with coconut, chocolate, caramel, and whipped cream.
2. Wrightsville Beach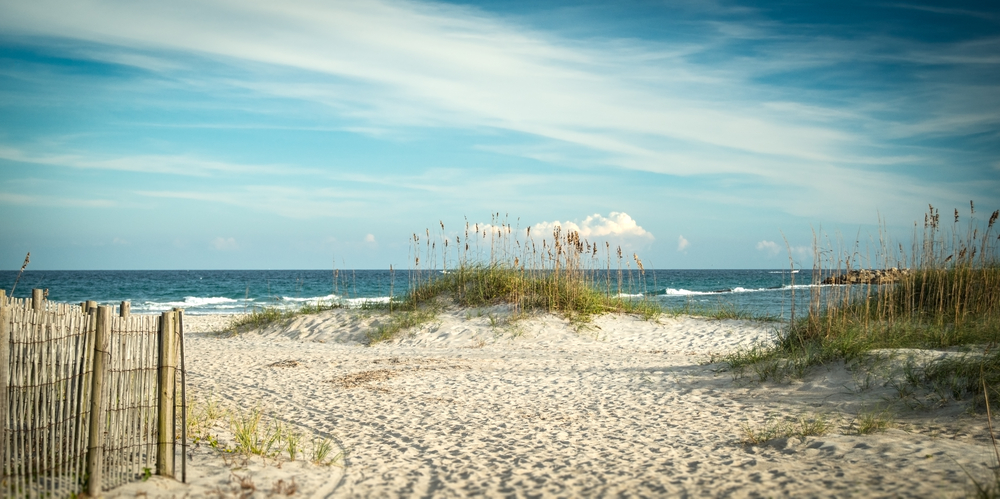 Address: Wrightsville Beach, NC
Pro Tip: Bring your pets in the off-season (October 1- March 31).
Wrightsville Beach is the perfect destination for families — seriously, the kids will love splashing in the sparkling, light green water or crinkling their toes in the sand. Lounge on the white sands while you watch your kids play, or join in the fun and help them dig the deepest hole.
This area is free from the distractions of close-by hotels and buildings, leaving the beach clean and serene. This is a great place to link up with a surf school to learn how to hang ten.
Do you want to watch the sunset? This is a prime time to go crabbing — see how many little crabs you can find running around by the water's edge!
3. Carolina Beach Boardwalk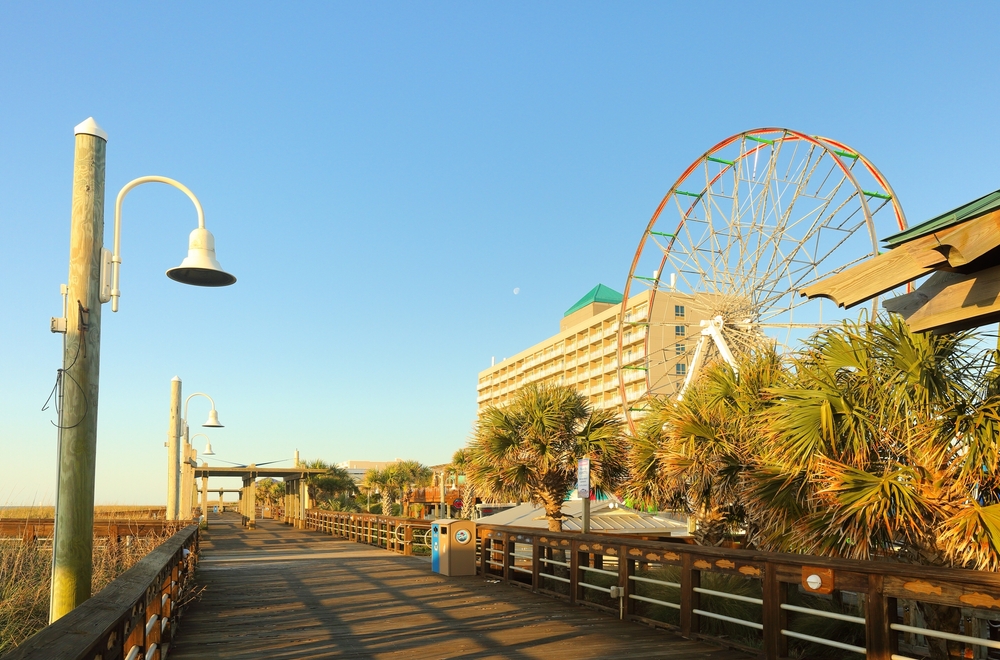 Address: Carolina Beach Ave S, Carolina Beach, NC
Pro Tip: Cash is king in these parts, so bring a few bills with you.
One of the most popular attractions on Pleasure Island, the Carolina Beach Boardwalk, sits right on the sandy beach of the Atlantic Ocean.
It's full of kid-friendly rides, snacks, and beach bars along the way. Let the cool ocean breeze calm your thoughts from the year as you walk along the boardwalk and cherish time with your loved ones.
In the mood for a sweet icy treat? Try Latella Gelato! And if you're visiting in the summer, Britt's Donuts has been a fan favorite for over 40 years. But the boardwalk isn't just for dessert. You'll find ample hearty options at the SeaWitch Cafe (oysters, anyone) or live music at the Tiki Bar.
4. North Carolina Aquarium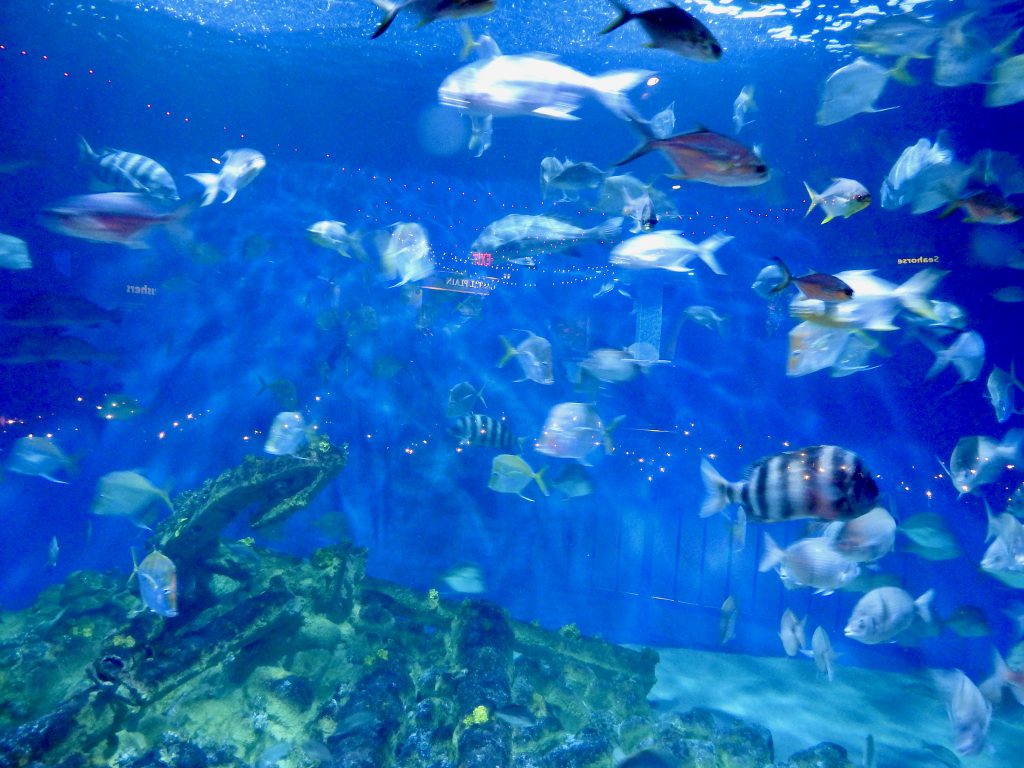 Address: 900 Loggerhead Rd, Kure Beach, NC
Pro Tip: Reservations and advance tickets are required, so make sure to grab those before coming over!
Rainy day while you're on your beach vacation? Feeling cooped up inside? Are your kids getting antsy?
Bring them on over to the North Carolina Aquarium at Fort Fisher.
This aquarium is great for families. You and your kids will marvel at sharks, sea turtles, and seahorses. Watch the adorable otters play and splash together in the waterfall, or gaze in awe at the resident albino alligator! You're covered for lunch, too. Check out the "Shark Bites" snack area to curb some of that hanger.
5. Carolina Beach State Park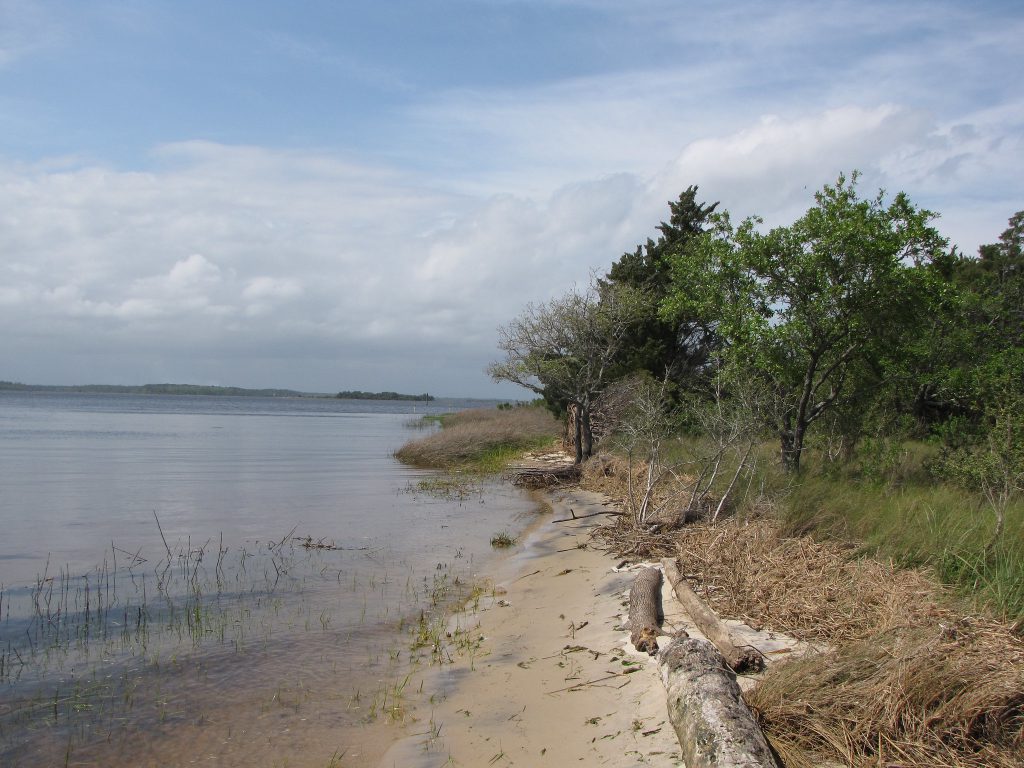 Address: 1010 State Park Rd, Carolina Beach, NC
Pro Tip: Pack binoculars for wildlife viewing.
If you love to get outside and hike, Carolina Beach State Park offers numerous hiking trails and activities for you and your family! Pack your binoculars to take advantage of the many birding opportunities on the Live Oak Loop. Look for brown pelicans, warblers, and woodpeckers.
Traveling in the summer? Go to Snow's Cut, where you can find yellowthroats, painted buntings, and prairie warblers. Not into birdwatching? There are also kayak rentals and a marina for boaters.
Did you know that some of the most common carnivorous plants, like the venus fly trap, grow in the wild in North Carolina? If you look around, you'll see plenty of venus fly traps, pitcher plants, and maybe even some butterwort and bladderwort! And don't worry; these plants won't eat you or your family. They prefer to eat bugs!
6. Fort Fisher State Historic Site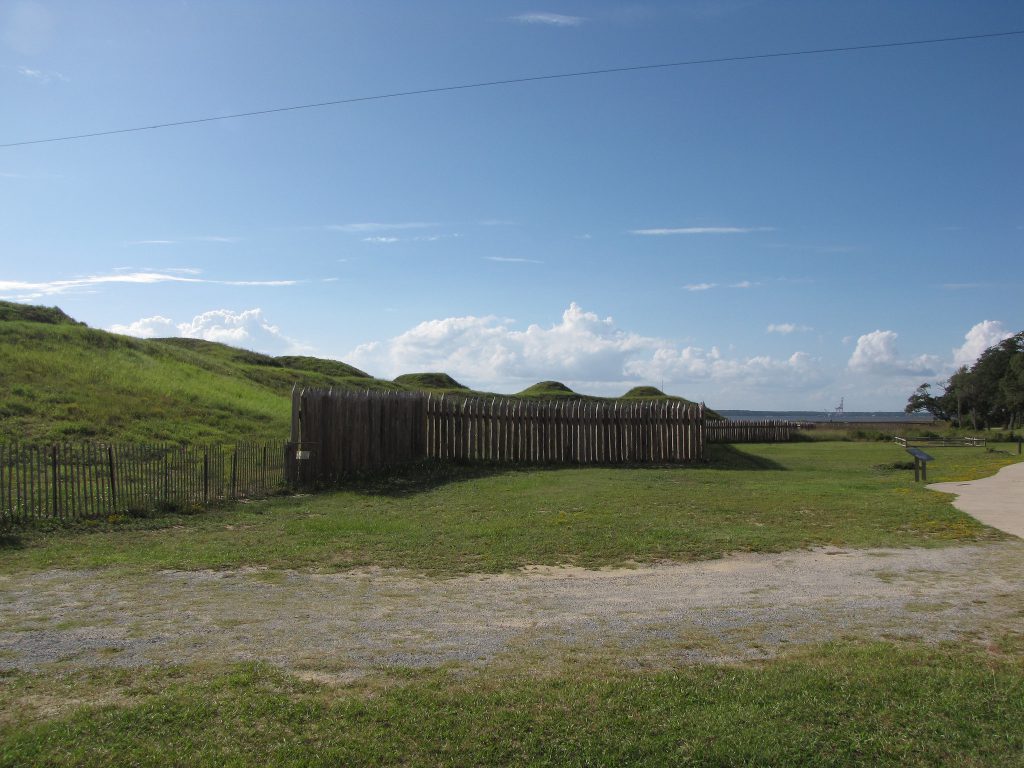 Address: 1610 Fort Fisher Blvd S, Kure Beach, NC
Pro Tip: Make a reservation in advance if you want to bring a group.
For Fisher State Historic Site is a free, not-for-profit museum that showcases the riveting history of Fort Fisher. This area helped to supply the confederacy throughout the civil war. It was the last supply line in 1865 until it was finally attacked and fell, which helped to decide the fate of the confederacy.
This museum has both an indoor museum and an outdoor walkthrough exhibit with benches along the walkway.
The inside is packed with tons of historical artifacts from the Civil War. Throughout the year, guided tours with costumed guides share the story of the Confederate artillerists and infantrymen.
7. Sea Legs Pedal Pub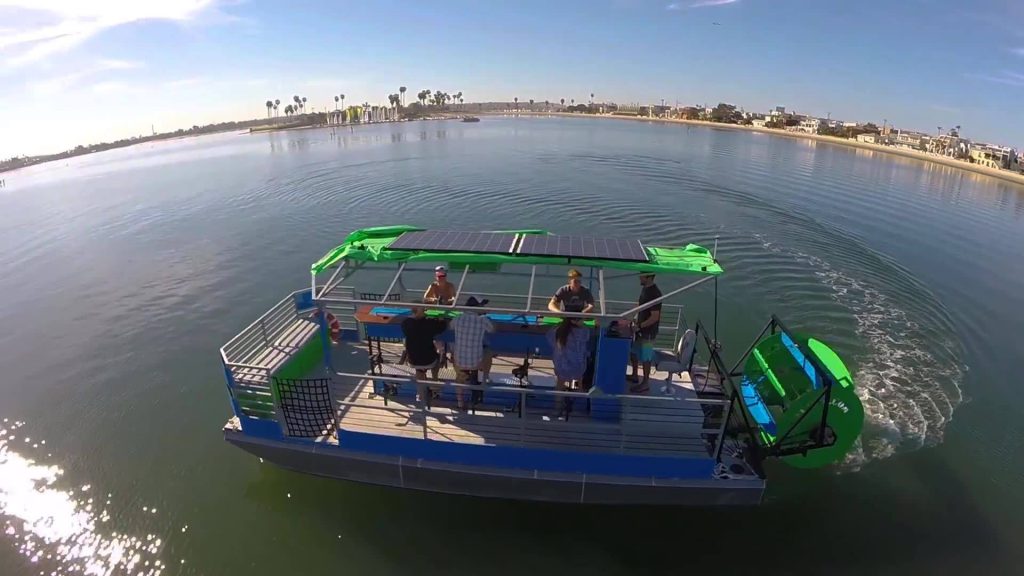 Address: Municipal Docks, Carolina Beach, NC
Pro Tip: Got kids? No problem! There's no age limit to who can ride; just bring kid-friendly drinks for your little guys.
Looking to get out on the water with your family and friends? Check out Sea Legs Pedal Pub! You can book the pedal pub as a private event or go on a public cruise, where you'll likely meet other vacationers of the Pleasure Island area.
The cruise is always entertaining since you get to pick the music. A nice bonus? It's BYOB! You can tip back a few beers on the Atlantic's beautiful waters as you get a little workout.
We suggest taking a sunset cruise. Relish the landscape's vibrant colors over the water while spotting amazing wildlife like dolphins, sharks, and turtles.
8. Kure Beach Fishing Pier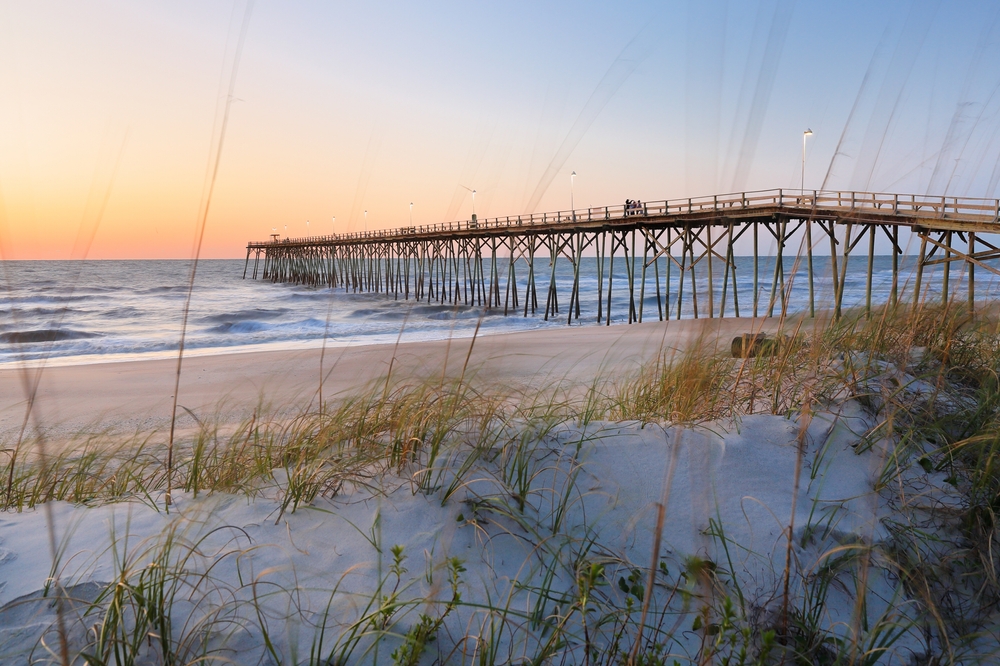 Address: 100 Atlantic Ave, Kure Beach, NC
Pro Tip: Take your kids to the mini arcade at the nearby concession stand.
Built in 1923, the Kure Beach Fishing Pier is a great place to go for a walk along the water. While it is free to walk, you'll need to shell out $8 if you want to fish. Our take? The fee is well worth considering the plentiful rainbow trout, walleye, and muskie swimming about!
If you're feeling a bit lazy, sit on the pier and just people-watch instead. You'll see wholesome sights of families playing in the sand and kids dodging the incoming waves, giddy with excitement.
Prime people-watching opportunities include the long-haired surfer dudes trying to catch a wave, or the barefoot fishermen, lounging in their chairs waiting on a catch.
Explore and Stay Around Pleasure Island
Pleasure Island is the perfect getaway for the leisurely stroller, seafood enthusiast, history buff, and so many others. But after a long day of walking, exploring, and eating, you'll need a cozy home to hang your hat.
Our vacation rentals offer immense comfort, freedom, and flexibility. Take your pick from full houses to condos — no matter your rental, we promise to make your next getaway one to remember. Book one of Carolina Retreats today.