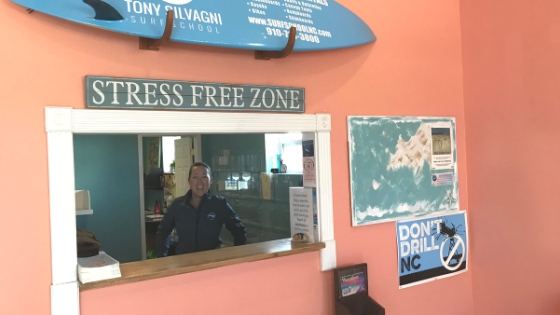 We recently sat down with, Kelli Taylor, our Senior Property Manager for Carolina & Kure Beach, to ask her how she got into the vacation rental industry and which aspects of her day are the most rewarding.
How long have you lived in Carolina Beach?
My entire life! I have lived on Carolina Beach and Kure Beach my entire life. Born and raised on the Island and still living on the beach!
How long have your worked for Blue Water, and in what roles?
I started in inspections in 2010. It was a great way to be introduced into vacation rentals. I was able to learn about all aspects of property management.
In 2015, I became part of reservation team and vacation planning–a great way to learn more about the reservations process and guest relations.
In 2017, after the recent merge, I moved into the role of senior property manager, overseeing every aspect of property management. Ron has been an incredible guide and mentor for me throughout the entire process.
What is your favorite part about the vacation rental industry?
I love seeing the excitement on vacationers- especially on checkout day. I know that may sound odd but, that moment when guests reflect on all of the great experiences they just had on the island is magical. Their sunburnt faces and their salty kisses goodbye, nothing warms my heart more than "we'll see y'all next year".
How did you react to the news about Ron finally deciding to retire?
I've been Ron's left and right hand for two years. We were prepared for the transition however, we will miss working alongside him. It is bittersweet. but I can't fret too much–he still maintains a great role as an advisor and errand boy!! 🤣
What are your goals for the new Blue Water Realty by Carolina Retreats this year?
We are continuing to grow our company while maintaining our amazing open lines of communication, availability, and hands-on activity throughout the management process. Our personal attention to guests and owners is unmatched around here and I am passionate in keeping this a Blue Water standard.
I'm looking to build my team with vacation planners who are just as excited as we are here —building the memories of vacations to come.