The Tarheel State, North Carolina is known for many things: the Wright Brothers took their first flights here, the Outer Banks is located here, and the state, though it has a wide range of landscapes, is primarily treasured for its sandy beaches, coastal towns, and sprawling beach houses that lie along the east coast.
North Carolina has no shortage of pristine beach towns.
Each has its own character and draw which brings people from around the country to spend beach getaways on their shorelines.
Enjoy a fantastic getaway by the seashore and spend some time in some of the most popular North Carolina beach towns listed below:
Topsail Beach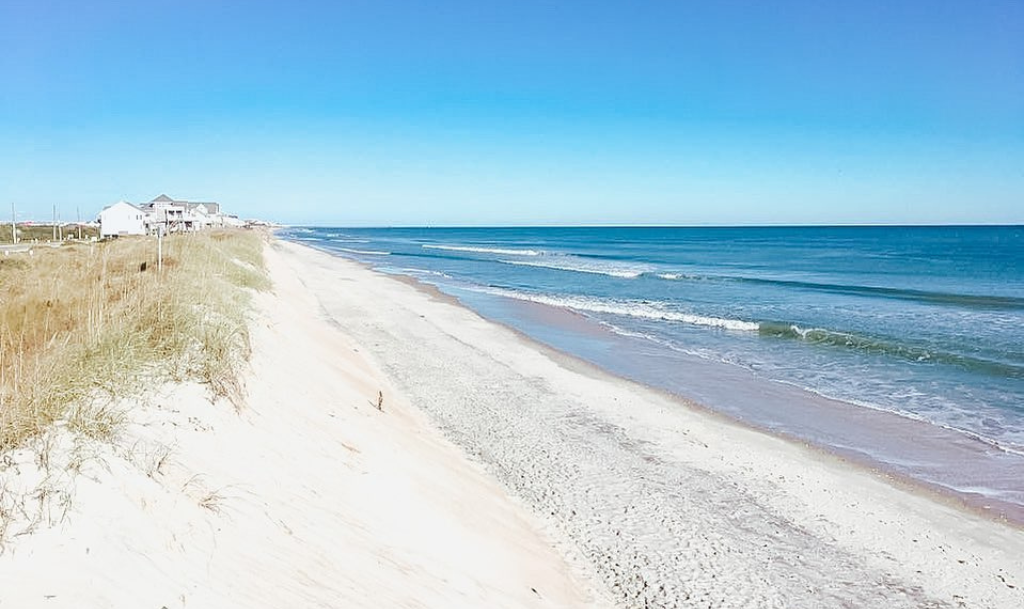 Topsail Island is a stunning barrier island off the coast of North Carolina, located just south of the Outer Banks. Of three towns on the island, Topsail Beach is the smallest.
Originally a hideout for pirate ships, the island has a history spotted with strange tales. In fact, rumor has it that Blackbeard's treasure is hidden somewhere on the island.
At one point, Topsail Island was confiscated by the United States government and re-purposed as an anti-aircraft training center and again as a missile development area in World War II before it was transitioned into a quieter beach town.
What makes Topsail Beach special is that it is a small town that is largely still privately-owned. It is one of the quieter beach locations, with few hotels, and, instead, a large amount of vacation rentals that line the sand dunes along the island.
The island is well-known for being a sea turtle preservation site, and loggerhead turtles come along the shores each year to nest and lay their eggs. While visiting, consider volunteering at the Karen Beasley Sea Turtle Rescue and Rehabilitation Center where you can lend a hand in the turtle hospital!
Other options include fishing off the Jolly Roger Pier or driving onto the beach to catch some sun.
Surf City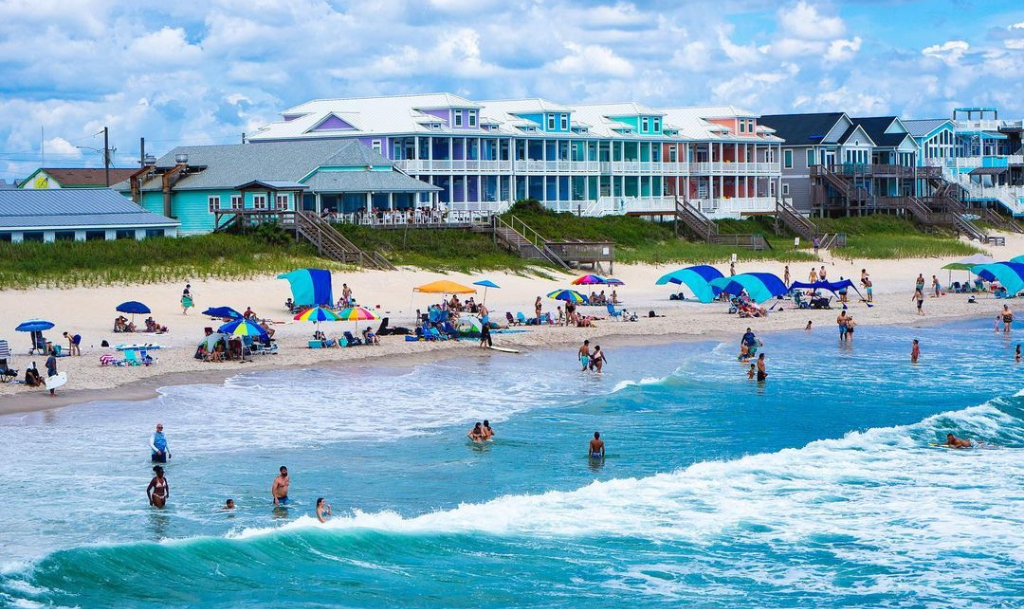 Another small beach town on Topsail Island is Surf City.
This family-friendly location offers beautiful beaches and fantastic access to water sports of all kinds.
Cast a reel on the popular fishing pier in Surf City, where you can even buy tackle, enjoy ice cream, or make use of some of the fish-cleaning stations. The Surf City Pier allows you to fish well into the night since it is lit up in the evenings.
If fishing isn't your favorite thing, rent a boat, kayak, or paddleboard. You can even sign up for surf lessons if you are feeling particularly brave!
Surf City is the perfect small town for a beach vacation along the North Carolina coast.
Carolina Beach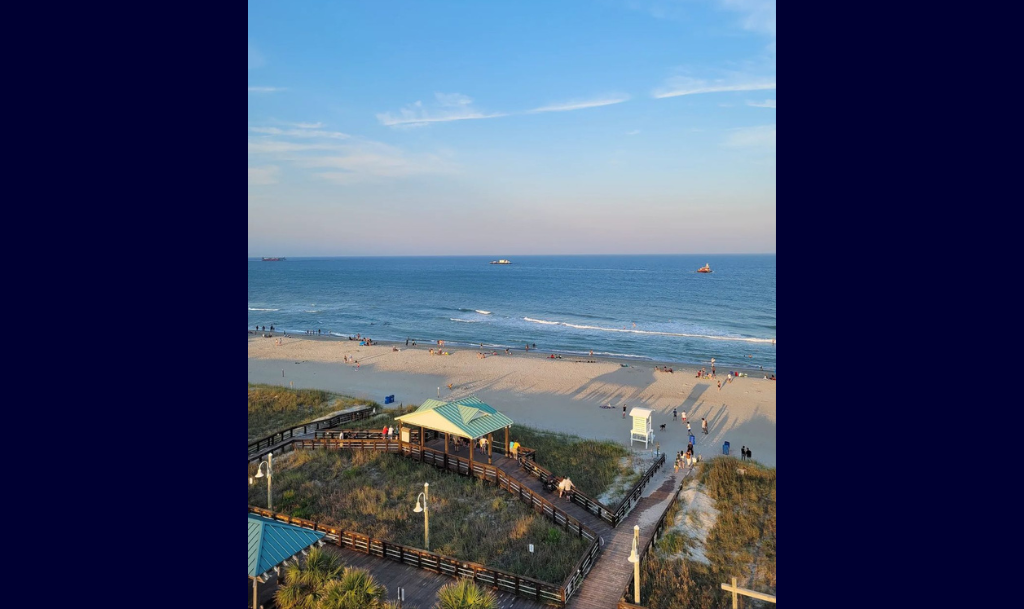 Carolina Beach is a traditional beach town, complete with a boardwalk and miles of state park to enjoy.
It goes without saying that Carolina Beach offers beautiful sandy beaches and immaculate vacation rentals perfect for any family.
What makes this town special are the many things to do when you're tired of spending time by the Atlantic Ocean.
Stroll along the award-winning, old-time beach boardwalk in the evenings, where you can feel the salty air on your face as you enjoy pizza and boardwalk fries. Spend some time enjoying amusement rides that will bring back memories of childhood or browsing the shops that line the avenues.
Finish the night with some friendly competition in arcade games and delicious ice cream.
Carolina Beach is also the perfect place for adventure of all kinds. Hike a variety of trails at the Carolina Beach State Park, spend an afternoon paddling a kayak through various waterways, or enjoy time at the breweries and golf courses in the area.
Kure Beach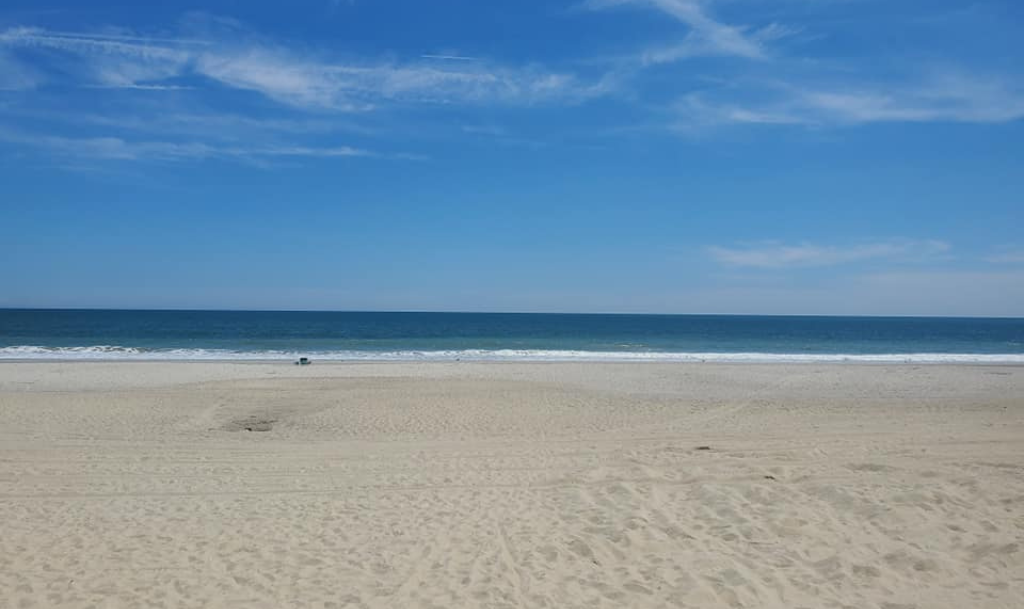 The peace and tranquility of North Carolina's Kure Beach mixed with the large array of attractions and things to do in the area make it a definite contender for a worthwhile family vacation to the beach!
There is no shortage of historic sites in the area, as places such as the Fort Fisher State Historic Site welcome visitors to experience a piece of the Civil War. The site boasts a visitor's center, memorial, and rotating exhibits focusing on the history of the area.
In addition, Kure Beach is home to the oldest fishing pier on the Atlantic Coast. Cast a line and see what bites. Souvenirs and refreshing ice cream treats are stocked on the pier to make it the perfect family-friendly outing.
The North Carolina Aquarium at Fort Fisher is a stunning aquarium jam-packed with experiences for children of all ages.
Meet their popular albino alligator, or see dive shows and animal encounters. Brave the touch tank and feel the slimy backs of stingrays, or spend time outside in the Play Nature Garden.
Regardless of what you choose to do while there, the sparkling waters and sand dunes of Kure Beach are a beautiful backdrop for a beach vacation to remember.
Wrightsville Beach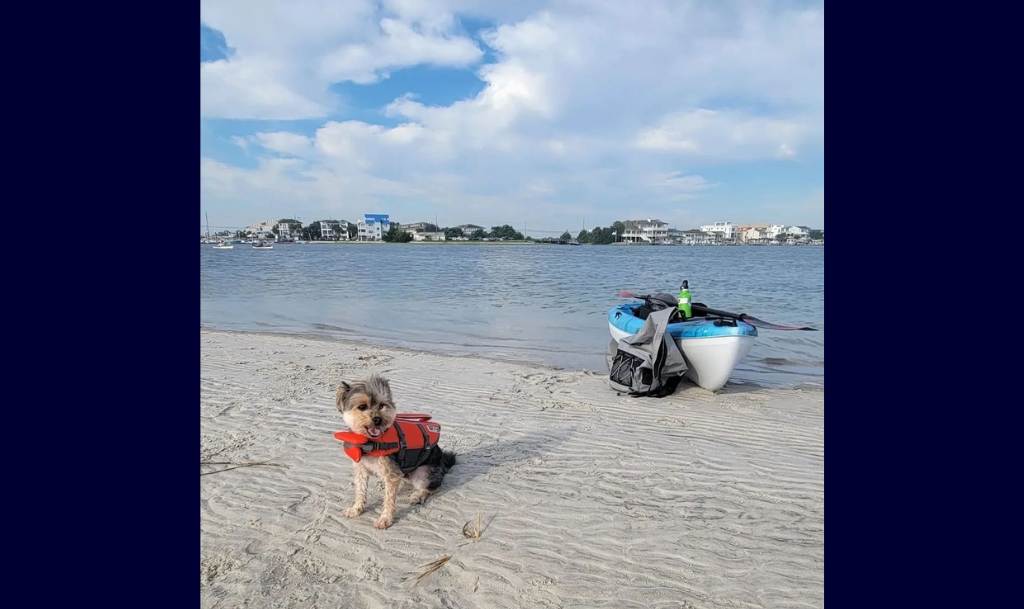 One of the most popular North Carolina beaches, and an island of its own, Wrightsville Beach has been stunning visitors for generations, partially due to how easily accessible it is from the large town of Wilmington.
In addition, Wrightsville Beach has a little bit of everything so guests will find plenty to do, no matter their interests..
There are countless places to stun foodies and brew-lovers alike. Fitness enthusiasts will love the opportunity to stand-up paddleboard or find their way around a surfboard, as Wrightsville Beach was named one of "The World's Best Surf Towns" by National Geographic.
And, of course Wrightsville Beach has just about every water sport you could imagine, including scuba diving, and fishing piers are, of course, in high demand here as casters see what they can snag out of the waters of the Atlantic.
Wrightsville Beach is not only known for having a beautiful beach, but also for its fantastic nightlife scene.
Sit back at Wrightsville Beach Brewery and enjoy a hand-crafted beer along with some tempting food options.
Or, for a more romantic evening, dine along the Intracoastal Waterway at the Bluewater Waterfront Grill.
Anywhere you go, you're likely to find creative cocktails, eclectic food choices, and locally-caught seafood to end a beautiful day in Wrightsville Beach.
Oak Island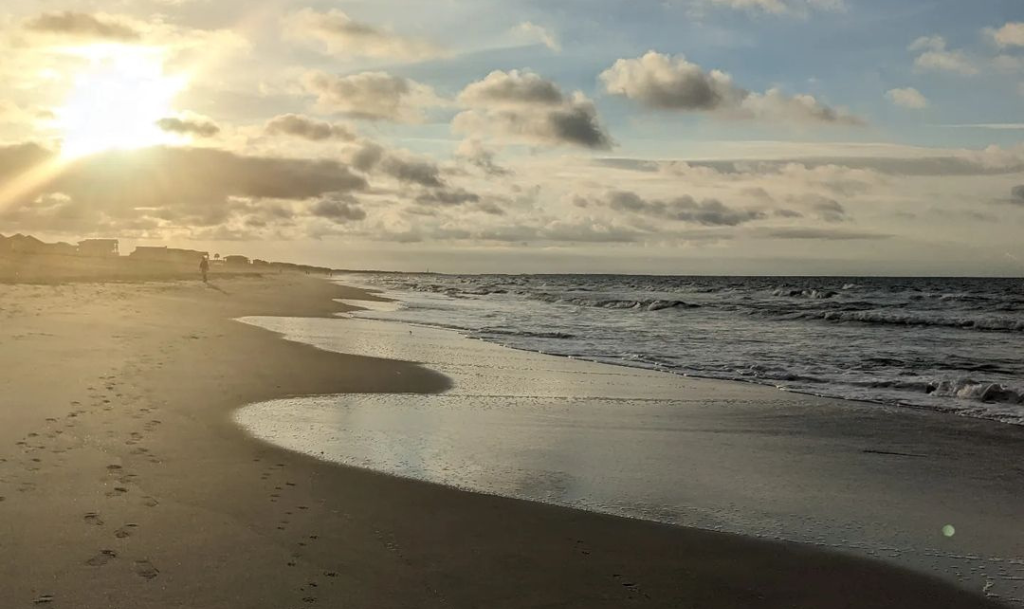 Located further south on the Atlantic coastline of North Carolina is Oak Island.
With more than 100 places for beachfront access, this area is the perfect location for a family-friendly beach getaway. Visitors also enjoy multiple public boat launches, kayak launches, and fishing and crabbing locations.
When you're tired of water sports or beach time, adventure is readily available on Oak Island. Check out the Oak Island Nature Center for some bird-watching and hiking, or hit the links at the Oak Island Golf Country Club.
Oak Island is situated near Southport, a town which offers significant historic sites to visit such as the North Carolina Maritime Museum at Southport as well as the Fort Johnston Museum.
Nags Head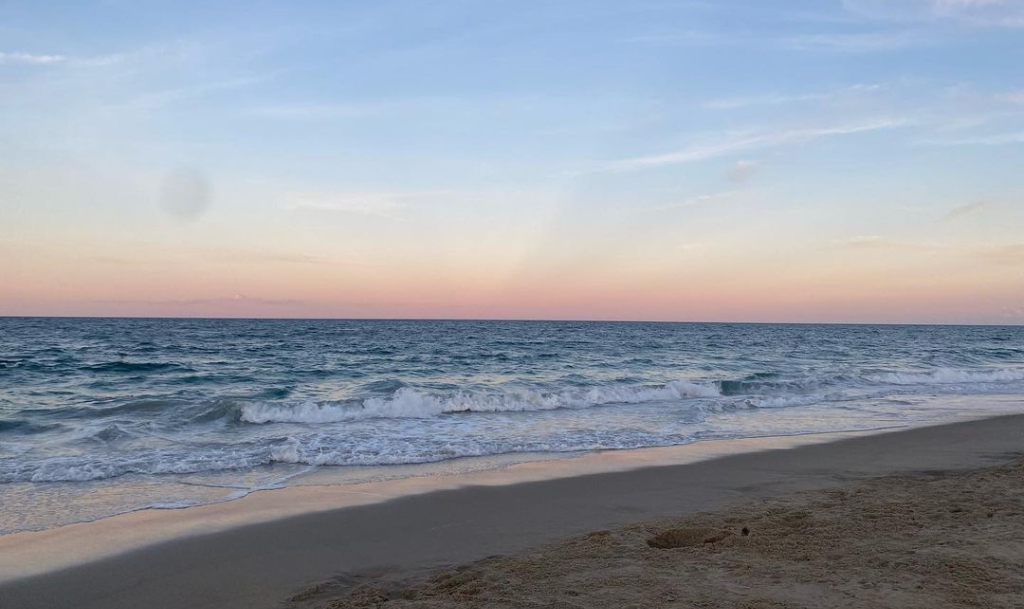 Nags Head, a popular beach in the Outer Banks, is well-known for its beautiful miles of seashore and the enormous sand dunes of Jockey's Ridge State Park.
In truth, Nags Head has everything. Popular restaurants, wineries and breweries, nature trails, an outlet mall, and countless boutiques and vacation rentals.
What makes Nags Head special is its location. It is a perfect place to set up camp in order to have relatively easy access to the rest of the Outer Banks. You can easily visit the Cape Hatteras National Seashore to the south, Roanoke Island, and the other beaches that make up the Outer Banks.
The beach just recently underwent a revitalization and restoration project that was completed in August of 2022, so fresh sand and shore awaits their first visitors!
Conclusion: North Carolina Beach Towns
Regardless of which beach town you are visiting, you're sure to find something to interest everyone— from beaches to water sports to nature adventures and fantastic shopping, you'll find activities to fill even the longest of stays.
Relax in a seaside villa or a large vacation home rental along the shores of the North Carolina Beach Towns, and let us know how you love it!