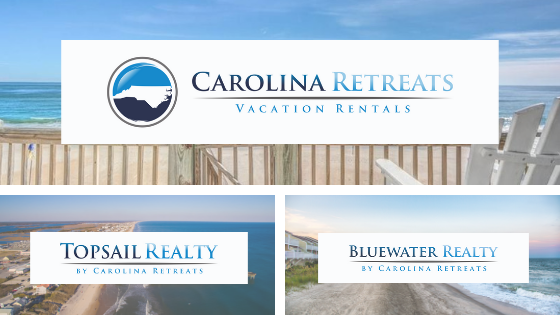 Surf City, NC – January 2, 2019 – Topsail Realty Vacations, a leader in Vacation Rental management on Topsail Island, NC for more than 40 years, has recently announced the acquisition and merger of Blue Water Realty and Ocean Breeze Properties, both of Carolina and Kure Beach, NC. The newly combined companies will offer vacation rental marketing and management services for property owners and guests throughout the region under the new brand umbrella, "Carolina Retreats", and online at CarolinaRetreats.com.
Blue Water Realty, founded by Ron and Teresa Clontz, has been providing vacation rental and real estate services for approximately 60 vacation rental property clients on Carolina and Kure Beach since 2002. According to Ron Clontz, former President of Blue Water Realty, "I think that Mike and his Team are the perfect people to take over Blue Water Realty and lead it into the future. His extensive involvement and experience within the vacation rental industry, combined with their understanding of how to leverage technology and the ever changing landscape of vacation rental marketing will greatly benefit all of our property owners and guests".
Ocean Breeze Properties, founded and operated by Cindi Jacobs, specializes in vacation and long-term property management for approximately 20 vacation rental property owners on Carolina Beach. As a solo entrepreneur, Ms. Jacobs built her business one client at a time, based on personalized service and attention to detail. "While I love what I do, and the people that I work with, it was evident that I needed help in order to provide the level of service and expertise needed in today's vacation rental management world", explained Ms. Jacobs. She continued, "In my discussions with Mike over the past year, I felt we had a very similar mindset when it came to how we view our clients as partners, and that was a very big factor for me. I feel very confident in the future of the company in such capable hands".
The business combination of Topsail Realty Vacations, Blue Water Realty, and Ocean Breeze Properties will bring the total number of vacation rentals under management to approximately 300, making the newly formed Carolina Retreats one of the largest vacation rental management companies in the area.
"I am extremely excited for the opportunity to take over for Ron, Teresa, and Cindi in Carolina and Kure Beach", stated Mike Harrington, Founder & CEO of Carolina Retreats. "By combining our resources and operations under a common brand, it will allow us to market on a more regional basis on a much more efficient scale. Ron, Teresa, Cindi and I have had some great conversations while discussing this possibility, and I believe we all share the same common vision moving forward about the future of the vacation and short-term rental industry, and the expertise needed to compete in today's online marketing environment."
As part of the business combination and launch of Carolina Retreats, Blue Water Realty and Ocean Breeze Properties will combine operations and operate as "Blue Water Realty by Carolina Retreats", based out of the existing Blue Water Realty office located at 1000 S Lake Park Blvd in Carolina Beach. Topsail Realty Vacations will operate as "Topsail Realty by Carolina Retreats", and will continue to be run out of their current office location at 14131 NC Hwy 50 in Surf City.


About Carolina Retreats:
Carolina Retreats is a specialty lodging and vacation rental management company headquartered in Wilmington, NC. Today, the company currently manages more than 300 vacation and short-term rental properties through their owned and operated local brands; Topsail Realty by Carolina Retreats on Topsail Island, North Carolina, Blue Water Realty by Carolina Retreats on Carolina & Kure Beach, North Carolina, and the Loggerhead Inn, a 36 room boutique hotel located in Surf City, North Carolina. To book a vacation rental at any of our locations, or learn more about vacation rental management services, please visit www.CarolinaRetreats.com.