Guests staying in Kure Beach already have incredible views of the ocean and seemingly endless stretches of sand to play around on. So why venture out?
Because, while "life's a beach" might be a great motto for a vacation, the fascinating history and the idyllic setting at Fort Fisher State Historic Site can't be beaten as a way to add meaningful memories to your stay.
So take a trip through time and learn about the area's storied wartime past as you stroll along the gentle boardwalk and Southern Live Oak trees at Fort Fisher State Historic Site!
Why Visit Fort Fisher State Historic Site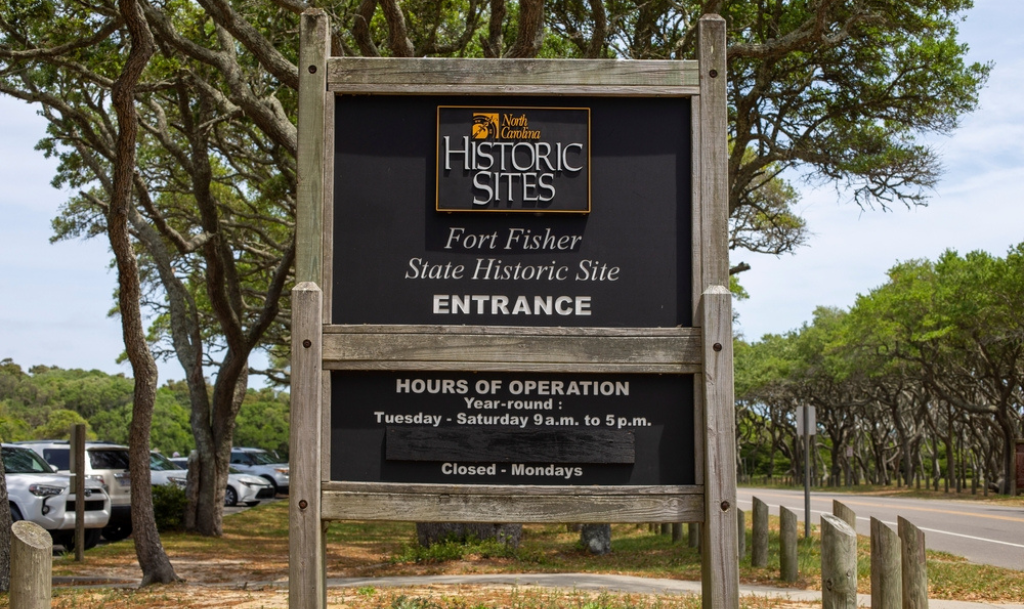 History Meets Nature
Whether you are more interested in the history of the area or in soaking up beautiful natural surroundings, Fort Fisher State Historic Site is definitely worth a visit. The combination of free historical exhibits and the scenic boardwalk makes it a great day trip away from downtown. Add in the incredible views and you're in for a great day any time of the year.
Fun for All
Fort Fisher State Historic Site is a great place for all types of visitors. Guests with mobility issues will find themselves well supported. The walking path terrain is level enough to allow for a pleasant stroll. Frequent benches in the area offer plenty of spots to rest. For people of all ages or those with varying levels of physical ability, this facility is excellent. The park has fully accessible restrooms and the tourist center is made with accommodations. The refurbished artillery position is not wheelchair accessible, but the tour route is.
Fort Fisher State Park Historic Site is also an easy and simple way to stretch your legs and let children and pets roam free while gaining perspective on how history has shaped the area.
Exploring Fort Fisher State Historic Site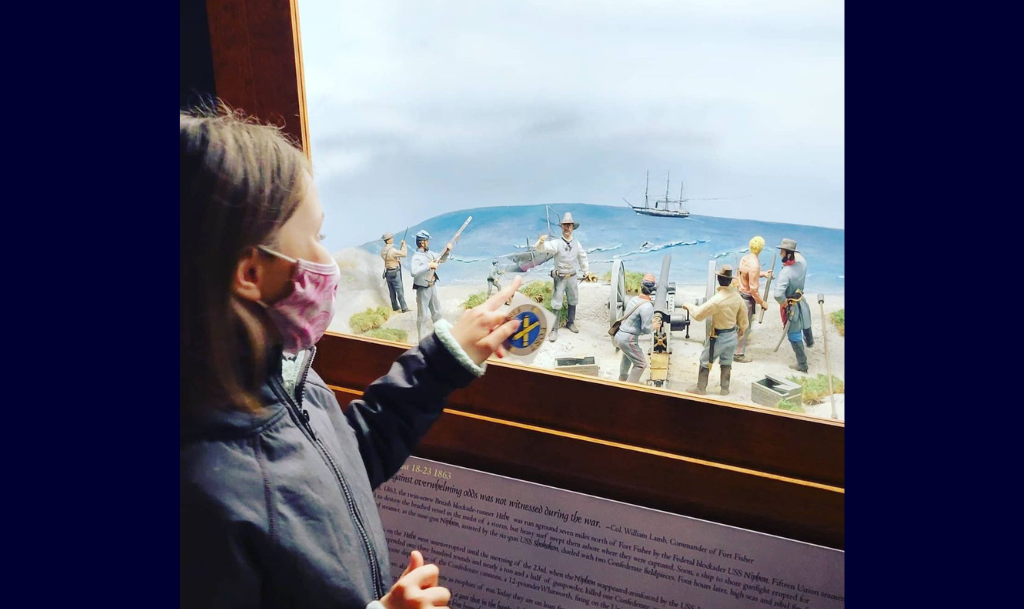 There is no shortage of reasons to love the state and national parks in North Carolina. The historical artifacts that have been preserved provide a window into the past, while the peaceful environment is perfect for anyone looking to relax.
In simplest terms, the historic site is made up of an outdoor walk-through exhibit and an indoor visitors center. The outdoor walk-through exhibit features a variety of different displays that offer a nicely curated and instructive history of the park's civil war history.
The indoor visitors center has additional exhibits and a short film about the area. Visitors can expect to find a variety of different artifacts, as well as plenty of informational signage that tells the story of how the park came to be. These exhibits are especially good quality considering the site's status as a free, nonprofit museum.
A Crucial Supply Line for The Confederate South
Fort Fisher's importance in Civil War history can't be overstated.
It was crucial for maintaining nearby Wilmington, North Carolina's harbor open until the last few months of the Civil War. Ships called blockade runners would deliver essential supplies to Confederate soldiers and bring goods from across the Atlantic Ocean further inland.
Ships from Bermuda, the Bahamas, and Nova Scotia, would arrive and trade with the British for southern cotton and tobacco for goods including food, clothes, and weapons.
Confederate Colonel William Lamb knew just how important Fort Fisher was to the Cape Fear defense system, to Wilmington's safety, and to the existence of the Confederacy as a whole and built up extra defenses.
Before July 1862, Fort Fisher was a small group of sand fortifications with less than twenty guns. Three years later, with the help of over 1,000 laborers, the Confederacy had built up a mile of sea defense and a third of a mile of land fortification.
The Fall of Fort Fisher
On December 24, 1864, Union commanders attacked the fort to destroy supply lines. They were unsuccessful. Because Fort Fisher was made of soil and sand, not brick and mortar, it could absorb the shock of powerful bombs. With 22-guns, 12-foot-high batteries, and a nine-foot-tall palisade fence, Fort Fisher's size and strength prevented Federal blockading ships from approaching the Cape Fear River.
Federal forces attacked again in January and after two and a half days of battle with more than 3,000 Union soldiers, including the 27th U.S. Colored Troops, they finally completed the fall of the fort. The Confederacy's supply chain was cut off, and the Civil War quickly ended.
Fort Fisher still has around 10% of its original structure, and it also has a repaired palisade barrier.
Book a Tour or Explore on Your Own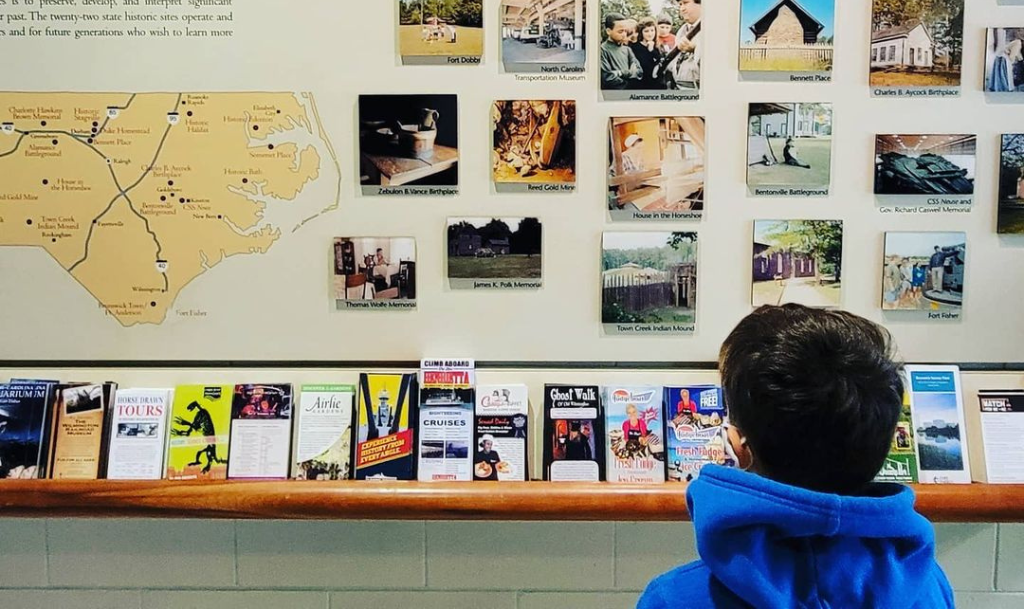 There are many ways to learn from and enjoy this spectacular location. The site does offer custom guided tours for groups (provided you arrange them in advance). These tours are led by knowledgeable guides who can share interesting facts and stories about the location.
While that is a great way to get expert knowledge on the artifacts, you can easily explore without a guide! The staff on site is always around to answer any questions you may have. They are extremely knowledgeable and kind so don't be afraid to ask questions during your visit, whether you're on a tour or exploring on your own.
Things to Do at Fort Fisher State Historic Site
Scenic Trails, Monuments, and Outdoor Exhibits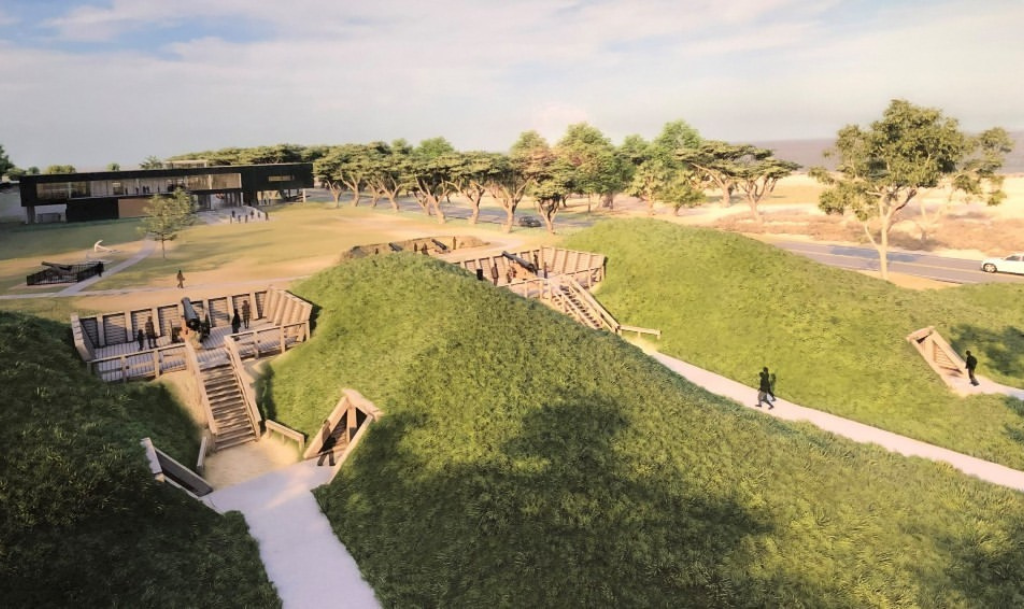 Though the site is history-rich, spanning the Civil War through World War II, the park offers more than just that. We recommend combining your tour of the exhibits with some amateur birdwatching or nature-focused walks so you can best enjoy the seas and sand.
A picturesque walk that is shaded by Southern Live Oaks takes visitors from the visitor center past the enormous earthworks and around to the back of the fort. Historical orientation is provided through guided tours and side-by-side exhibitions
The tour track circles the fort ruins on the riverside. It is about a quarter mile long. Many places along the route have exhibit panels about the history of the fort. On the top of one of the batteries is a defense gun that has been refurbished. On the ocean side, Battle Acre hosts a memorial to Confederate soldiers who have died. There is also a showcase for underwater archaeology at the northernmost part of the parking lot.
Take a look Inside the Visitors Center
Additional exhibits include an exploration of things found on sunken wartime ships called blockade runners. The Confederacy seized control of territory in southern North Carolina close to the mouth of the Cape Fear River toward the start of the American Civil War. They built what would eventually evolve to be the biggest and most significant earthwork fort in the South. In this location, there were two significant battles. For their combat service, several Union troops were awarded the Congressional Medal of Honor. Due to ocean erosion, just a few of the fort's mounds are visible today.
The Visitors Center also features a great gift shop that sells flags, books, CDs, T-shirts, and several other unusual products associated with Fort Fisher and the Civil War.
Make it a Day Trip!
There are great ways to combine a trip to the historic site with other nearby attractions.
One of the coolest ways to make the best of your trip to Fort Fisher is to take the Fort Fisher ferry across the Cape Fear River to see Southport, North Carolina, and take in great views of the estuary and island reserves. The ferry is only around the corner from Fort Fisher and takes around 25 minutes on the water each way. It is worth the extra effort!
Another way to see more of the area is to head down to Fort Fisher State Recreation Area and the nearby North Carolina Aquarium at Fort Fisher. These two spots are less than 1 mile south of the historic site and combine easily into a day trip to the area.
Planning your Trip
Fort Fisher State Historic Site is located at 1610 Ft. Fisher Blvd. in South Kure Beach. The site is open Tuesday through Saturday from 9 am to 5 pm. It is closed Sunday and Monday- and on most major holidays- so plan accordingly. Admission is always free.
If you are heading down from Kure Beach, simply head south on US-421 until you see the entrance signs on the right. Located at the southern tip of New Hanover County, the site is only 2 miles from the center of Kure Beach, so you can easily fit in a short trip alongside other activities planned for the same day.