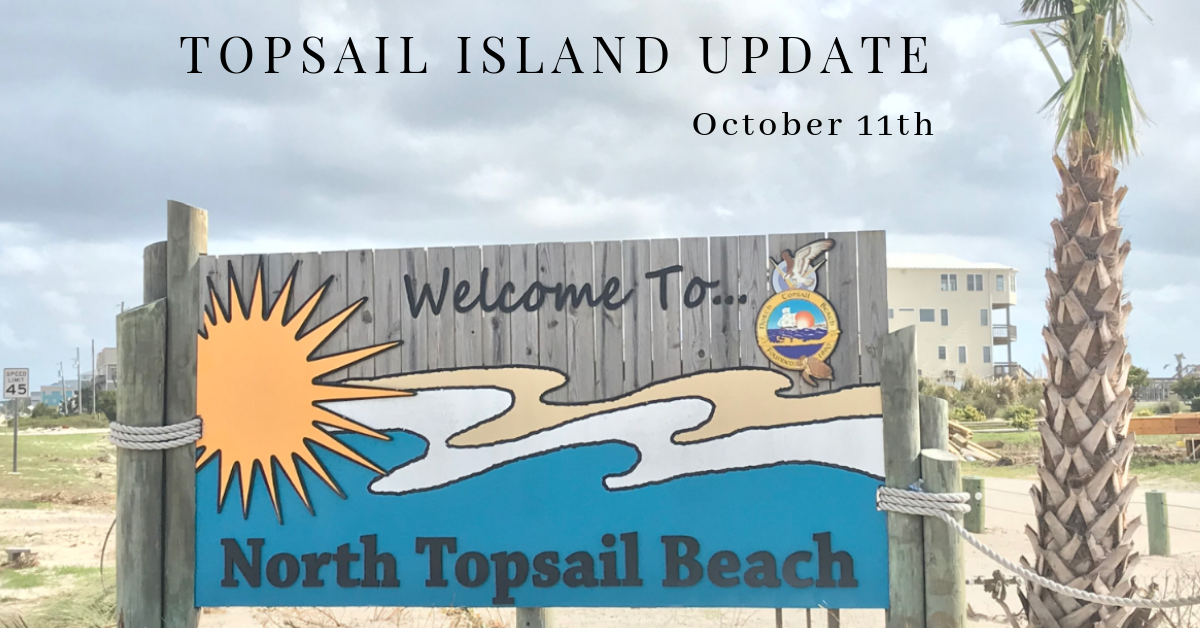 Hello all! Welcome back to our second installment of the progress going on in and around Topsail Island. This update will focus on the northern end of Topsail Beach, the public beaches, the sound, and dune preservation.
Note: These photos were taken on Tuesday October 9th, before any Hurricane Michael affects. Next week, we will bring you an update of the island and any additional developments (if any).
We are still less than one month removed from Hurricane Florence. The desire to get the beach back to normal is growing each day. This desire has our town energized and you can feel the sense of normalcy on the horizon. This may not seem like much, but every little bit helps in getting our beach community back on its feet faster.
North Topsail Beach fared admirably however less impressive than the south end. One of the striking differences between the two sides is that the north end has considerably more open landscape. We noticed more open gaps where dunes once protected the island.
The Seaview Fishing Pier was not open at the time however a recent Facebook post revealed that they were repairing the pier and were close to reopening to the public. As stated before, every little bit helps.
The sound side received its share as well but we didn't see as extensive debris as we did in other areas. Tree limbs and the tops of palms were scattered about and on the northern tip, sand dusted the streets quite frequently.
The beaches seemed free of flotsam and were quite wide open. But a little too wide open for our liking. The dunes on the north end took a wallop. These natural preserves did a very commendable job taking the brunt of the wind and rain and we are all thankful of their existence. The natural barriers will be a continued focus moving forward.
We are lucky that these dunes exist and did see good portions of the beach without significant dune erosion. Restoration is in the works and it's good to see large trucks and equipment working tirelessly to bringing back our little piece of paradise.
Slowly but surely, we are making headway on getting the island back to normal. These final photos were taken to hopefully exemplify the determination and strength Topsail Island residents exude. We love this place with all of our hearts and will continue to work to
We thank you for taking the time to read this week's installment. We are praying and hoping that Hurricane Michael dissipates and its affects are minimal. Our thoughts are with everyone in the Panhandle region of Florida.
Stay tuned for next week's assessment of Topsail Island.