Burgers! Burgers! Burgers! Can we ever get enough of them?!
Obviously, the answer is a resounding "no!" From soft, fresh baked buns, to juicy patties, to all those mouth-watering toppings, the iconic burger never fails to deliver.
Luckily, staying on Carolina Beach puts you smack in the middle of a ton of great options. The area has come a long way from 35¢ single patty snacks. Today, the area's eateries have burgers that come in all shapes for all budgets.
From drive-in classics to the best restaurants in town and some hidden gems, there is a lot on offer. Truly anything goes- toppings from jalapeños to pineapples to pimentos are taking Carolina Beach goers way beyond the heydays when humble beef sandwiches reigned supreme.
One Bun to Rule Them All…
To solve the mystery of where to eat the best burger in Carolina Beach, we pitted the burgers against each other to see which comes out on top! Every good tournament needs ground rules, so for this showdown, we picked burgers from three categories- Local Favorites, Corporate Classics, and Original Olympians- to see which is the best from each.
Each restaurant has a 4.0+ rating, and while we evaluated the burgers on their own merit, we took into account what customers had to say. Once we had a winner for each category, we could finally decide who truly makes… THE BEST BURGER IN CAROLINA BEACH!
There can only be one winner, so sit back and grab some napkins, it's going to get messy…
Round 1: Local Favorites Showdown
Nowadays, you can get a burger almost anywhere you go. With so many options, we understand the drive to find someplace local that serves up fresh eats you might not find just anywhere. Atmosphere matters. Luckily, Carolina Beach has you covered. These joints have iconic burgers in casual local settings that are guaranteed to satisfy. Nothing fancy. Just delicious.
Island Burgers & Bites' Double Bacon Cheeseburger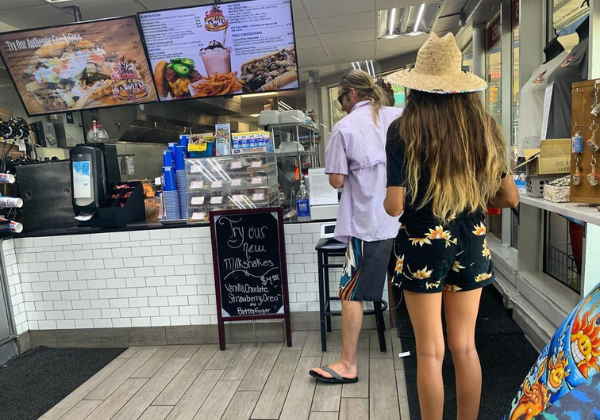 $11.99, Fast Food
Island Burgers & Bites serves up some of the juiciest out of the building of a former gas station. Don't be alarmed by the bizarre facade- this place is the real deal. Its unique setup and free toppings for all cheeseburgers make this place a do not miss. With great prices ($7.99 for a basic hamburger, $11.99 for the double bacon cheeseburger), this kitschy no-frills joint is first on the list for a reason.
Hang Ten Grill's Cowboy Burger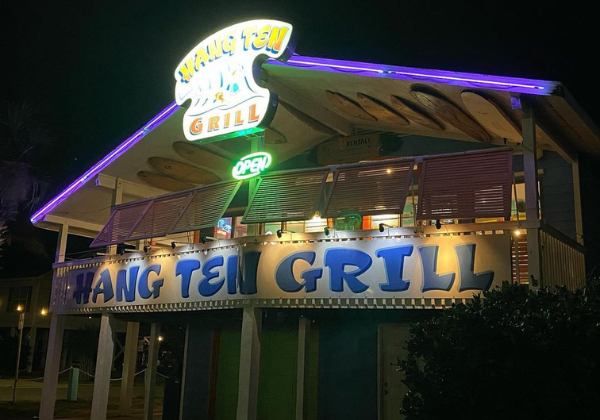 $12.99, Bar & Grill
If you're looking to sit down and grab a bite, you can't go wrong with Hang Ten Grill. They serve up a variety of American fare, from salads and sandwiches to burgers and beer. We surveyed the highly-recommended Cowboy Burger, which is a 1/2-pound patty with cheddar cheese, BBQ sauce, and of course, onion rings. In our opinion, at this point, a BBQ cheeseburger is a classic in itself and Hang Ten Grill doesn't disappoint.
Nostalgic Pick: Beach House Burgers Plain Cheeseburger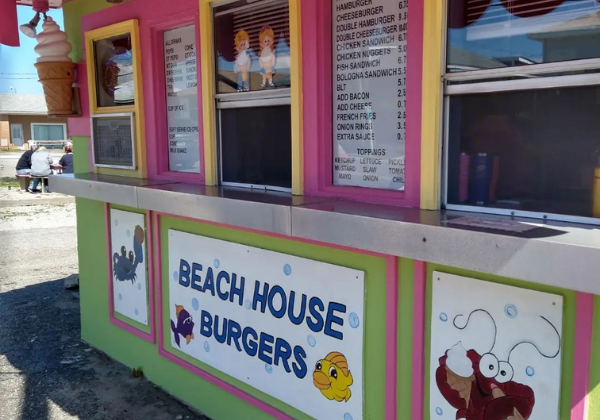 $6.99, Burger Hut
Not every meal needs to be a royal affair. Sometimes you just want to pick up a cheap, satisfying lunch. Beach House Burgers is just that. A seasonal burger shack with a location right at the beach that you can afford to feed the whole family. They serve up hot dogs, fries, chicken nuggets, and other old-school standards, so everyone can find something at this straightforward spot near Kure beach pier.
Winner: Island Burgers
This was tough, but we went with Island Burgers for a few reasons. They are known for their consistency, so no matter what time of year you go, you will be getting a delicious burger, no problem. Second was the friendliness of the staff. Every place on the list was kind and attentive, but no one could beat the vibe at Island Burgers. Maybe there's something in the fountain drinks. They take the cake for best burger in this all-around category. Runners-up included Pop's Diner and The Dive Food & Spirits.
Lightning Round: Corporate Cage Match
We all love a local joint. Sometimes, however, you want a faster-than-fast, no-questions-asked burger. Maybe it's the confusing joy of figuring out which drive-in window to pay at. How much meat is actually in that patty, anyway? And what happens to all those extra top buns? Some questions are best left unanswered, but in this case, the winner was clear.
Winner: Hardee's Monster Angus Burger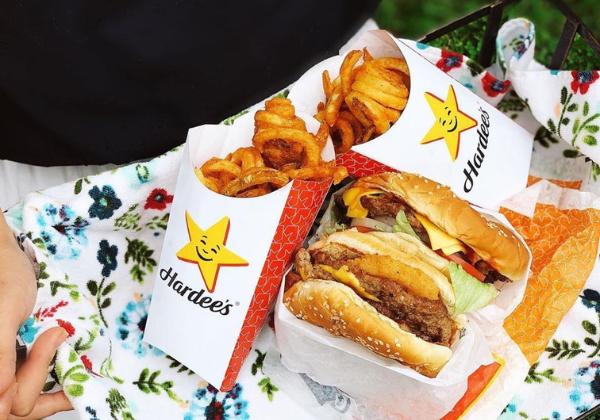 Fast Food $8.69
McDonald's just didn't do it for us this time, so we had to go with Hardee's Monster Angus because it has 100% black Angus beef patties (1/3lb), 4 strips of bacon, 3 slices of melted American cheese, and mayo served up on a toasted potato bun. Pretty Hardee for the price.
Final Round: Original Olympians
This final category is all about innovation. And we're not talking about bacon cheeseburgers or special sauce. These burgers bring something new to the table. If you prefer the safe and sound land of lettuce, tomatoes, and onion, feel free to skip to the end. If you are a true adventurer, however, get ready to set sail for burgers beyond the basics.
Most Fun: SeaWitch Tiki Bar's Original Witch Burger with Signature Sauce
$13, Seafood Restaurant
The Sea Witch is known for its amazing seafood offerings. They made the list, however, because they switch things up with new specialty burgers each week and are not opposed to you mixing toppings. We loved their list of signature sauces, including pineapple chipotle, mango habanero, bbq, strawberry jalapeño, buffalo fire, and Asian zing. They used to serve a Megalodon burger, with two full-size patties, pulled pork, and burnt tips. While this looks like a legend of the past, we have our fingers crossed that it might one day return.
Fork and Cork's Duck Duck Goose Burger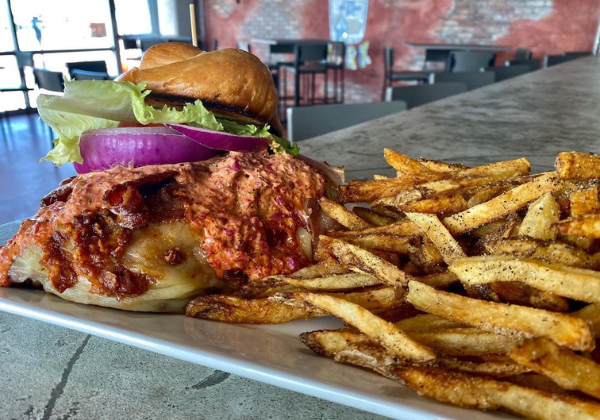 $14, Eclectic American
With globe-inspired appetizers like Fried Pickles, Scotch Eggs, and Texas Poutine, we were in for a treat at Fork and Cork. The chef is passionate about serving up the best of the best. There's a reason this place was featured on Diner's, Drive-ins, and Dives.
The burger list is overwhelming, in the best way, and you really get a great bang for your buck considering how innovative and satisfying these burgers are. Fun concoctions such as the Hot Mess (bacon, jalapeños, grilled onions, bleu cheese, and cheddar) and the Kreider (extra bacon, peanut butter, on brioche) call for a visit. Exotic options impressed us, like the Duck Duck Goose Burger, with ground duck patty, goose pate, fried duck egg, port wine cherry sauce, arugula, and shaved red onion, or the Kyle Style, with Texas BBQ brisket, cheddar, BBQ sauce, pickle, onion, and mustard. Really an astounding burger.
Runner Up: Fork and Cork's Lamb Burger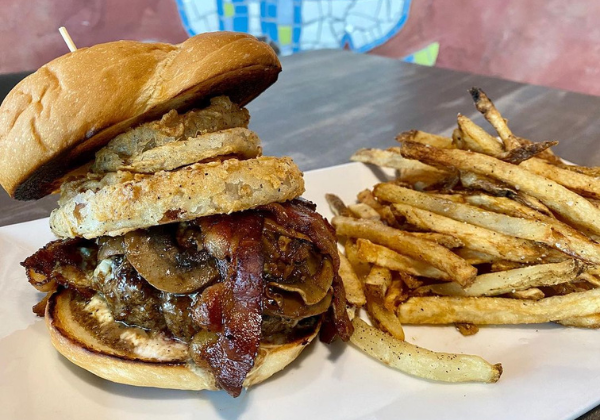 $15, Eclectic American
So nice we list it twice, Fork and Cork's Lamb Burger deserves a shot in the race. With ground lamb with mint and oregano, and topped with feta cheese as well as cucumbers, red onion, tomato, and homemade tzatziki sauce, this burger stands out as something different in a sea of beef.
The Best Burger in Carolina Beach
In the end, it is too close to declare a true winner. You really can't go wrong at any of these North Carolina spots. All these burgers will satisfy even the pickiest customer. You'll have to follow your nose on this one. And besides, with so many incredible restaurants in Carolina Beach at almost any price point, everyone wins.