Preparing for your next beach vacation can be overwhelming, and no matter how much planning goes into the trip, something always gets left behind. Even if it's a necessity like deodorant or your favorite frisbee, no one wants to go to the local drug store and spend money needlessly when you should be playing in the sun.
If you're heading to the beach, this handy beach trip packing list is the perfect way to ensure you don't forget anything.
Before anything, it is essential to consider how you travel and how long you will stay on your perfect beach vacation. Packing for a commercial flight or even a tiny little island hopper is very different from a road trip with an SUV and a big back seat to fill with sand toys and water gear.
Next, decide what you will be packing. Stuffing a duffle is slightly different from a carry-on. For the beach, choose something light and versatile.
Carolina Beach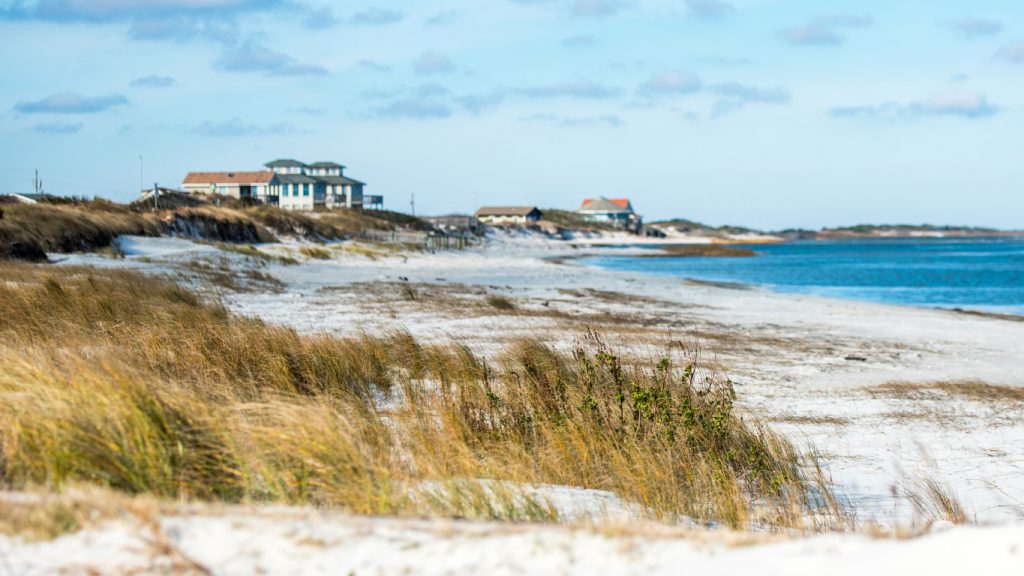 There is always fun to be had, whichever beach you choose – from lounging in the sun to window shopping and touring quirky museums. The last thing you want is forgotten medication to ruin your trip.
If your perfect beach destination is Kure Beach or Carolina Beach on the North Carolina coast, you'll be happy to know that it rarely rains there. The beach's temperatures are a perfect 90 degrees at the summer's height. But the evenings can be chilly in the spring and fall.
The list of things to do in this area of North Carolina's coast is endless. Carolina Beach State Park sits near the Cape Fear River, a popular angler destination. Fishing and marine lifeboat charters are available.
The Carolina Beach Pier offers boutique shops, fresh seafood restaurants, and amusement rides. Carolina Beach is just 15 miles southeast of Wilmington, North Carolina. This area is known to be one of the first colonies of the new world and is home to numerous historical museums and attractions that celebrate the coastal culture.
So what are considered essential items when packing for a beach day?
The Essential Beach List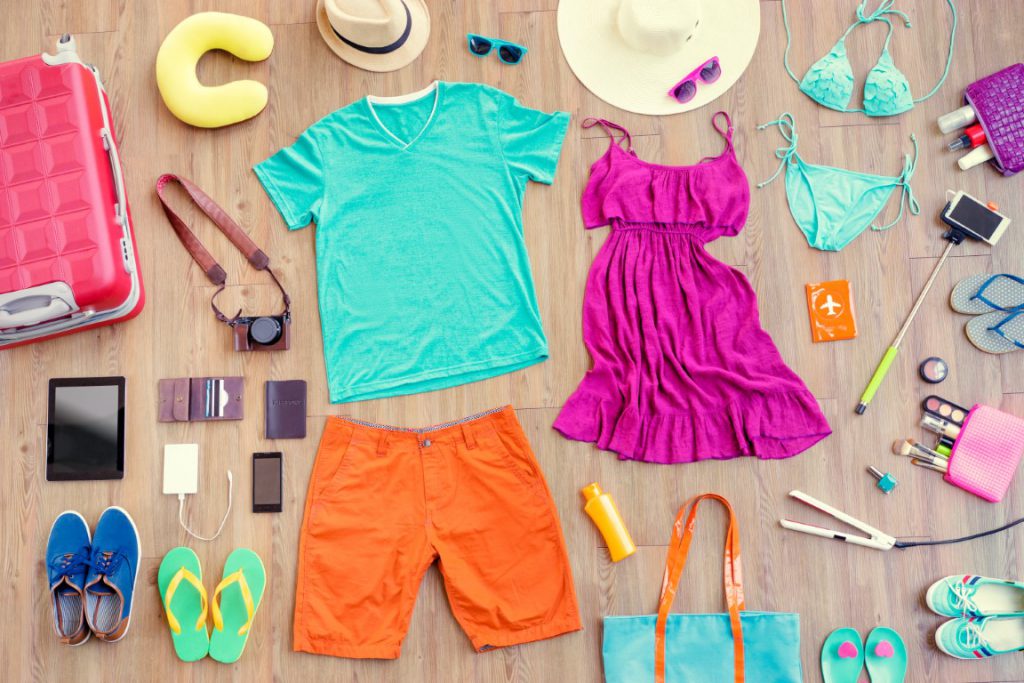 First, let's pack the basics.
Personal hygiene items and toiletries such as a toothbrush, toothpaste, soap, and shampoo are essential. And it is always good to have lots of hand sanitizer, and bug spray tucked away in your beach tote. Check Amazon or the local drug store for travel sizes of these critical items.
Above everything else, the most important thing to pack in your beach bag is high-quality sunscreen – try for a waterproof lotion or spray with an SPF of 50 or higher. Apply sunscreen whenever you get out of the water or are sweating. Even the most 'waterproof' products rub off. Check your skincare if you prefer not to use these brands on your face. Most facial products have sunscreen included or specialty sun care product lines.
If you're flying to your destination, consider sunscreen towelettes or stick applicators. They are easy to use, and the lotion bottles won't leak over the suitcase.
Also, check the environmental regulations at your perfect beach. Many of these sensitive marine areas have banned harmful and coral-damaging chemical sunscreens. To avoid an issue, look for reef-safe sunscreens.
Also recommended are SPF lip balm and Aloe Vera lotion in case of sunburn.
Pack Medications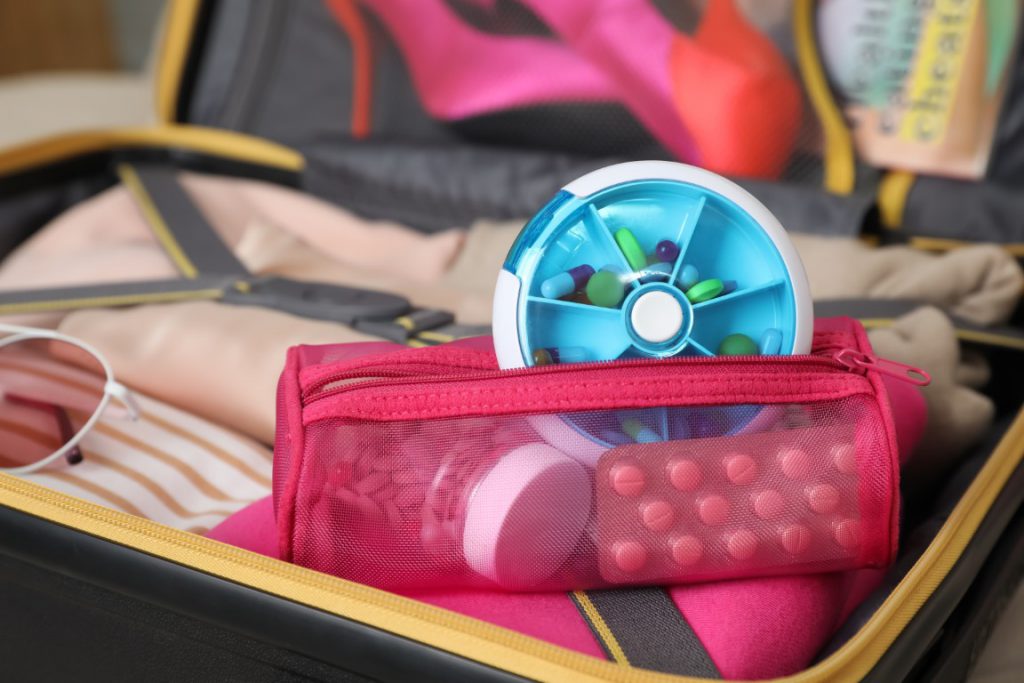 Don't forget any required medication. Many times, local doctors will not prescribe for chronic medical conditions.
If you want enough on hand for minor emergencies, pack a small first aid kit with aspirin or acetaminophen and an EpiPen for those with food or insect allergies.
In addition to necessary daily medication, consider packing extra contacts or a spare pair of prescription glasses. Sand, salt water, and dehydration can wreak havoc on soft corrective lenses. Prescription sunglasses are also an option.
Grab an inexpensive tube or chain to wear around your neck at the beach to keep your glasses safe.
Chose Tech Wisely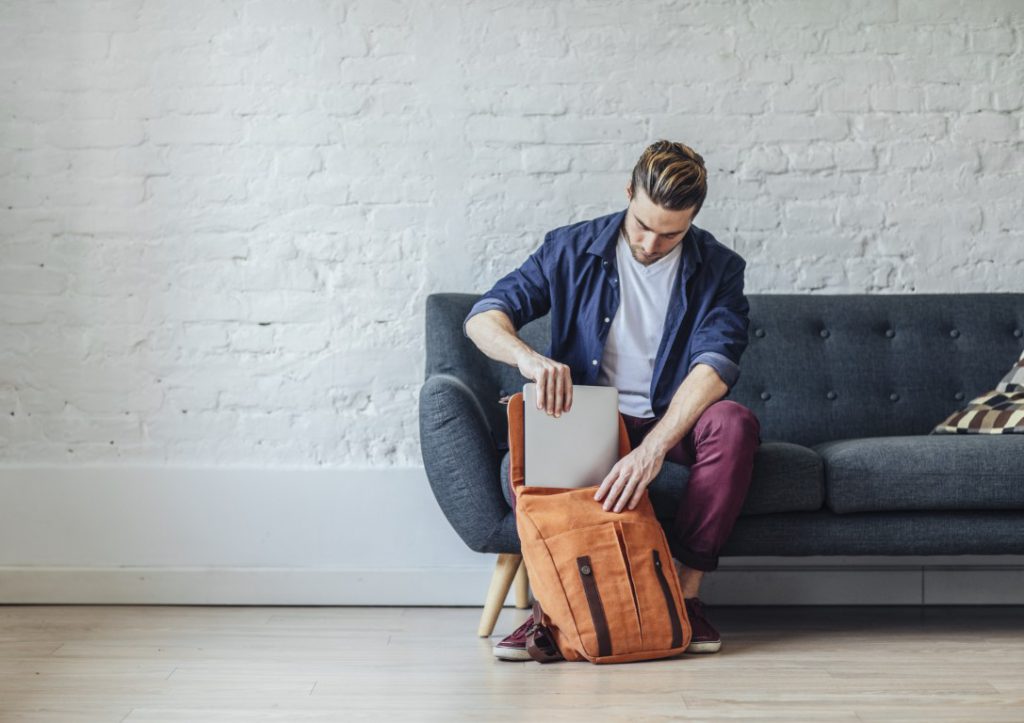 And, what would any beach getaway be without tech? Your cell phone, charger, and a rechargeable battery pack for long music sessions or to recharge your GoPro for those outstanding pictures of you parasailing or your child's awe-inspiring sand castle.
Earbuds provide privacy on airplanes or long road trips and for early morning walks along the beach. A small portable speaker provides music at your beach oasis.
If you need your laptop on your family beach vacation, don't forget the charger and travel mouse. Laptop travel chargers, even the generic ones, are expensive to replace and could take time to find.
If you are flying on your perfect beach vacation, consider travel insurance. Most inexpensive insurance policies can be purchased at the airport and cover hotel and flight cancellations, lost luggage, and significant accidents.
Now, let's look at the beach portion of the packing checklist.
Beach Essentials
The perfect coastal vacation takes planning. Check your beach vacation packing list for beach towels, an oversized blanket, and an easy-carry lounge chair. If you need to look for something new- plenty of brands these days are selling vibrantly colored beach blankets that are sand-free and quick dry. These are must-haves to add to your pre-beach shopping list.
It is also a good idea to throw swimsuit cover-ups such as a sarong or t-shirt into your beach bag for sun protection. Flip flops are a tradition at the beach, as is a big floppy sun hat or some head covering.
When purchasing a beach bag, grab one with a distinctive pattern, so it is easy to find on a crowded beach. Look for one with waterproof inside or hidden pockets to store cash or small electronics. Investing in waterproof protective covers for your gadgets and a key float is a fantastic beach travel tip. Often overlooked, these small choices can save a vacation from disaster.
Traveling with Kids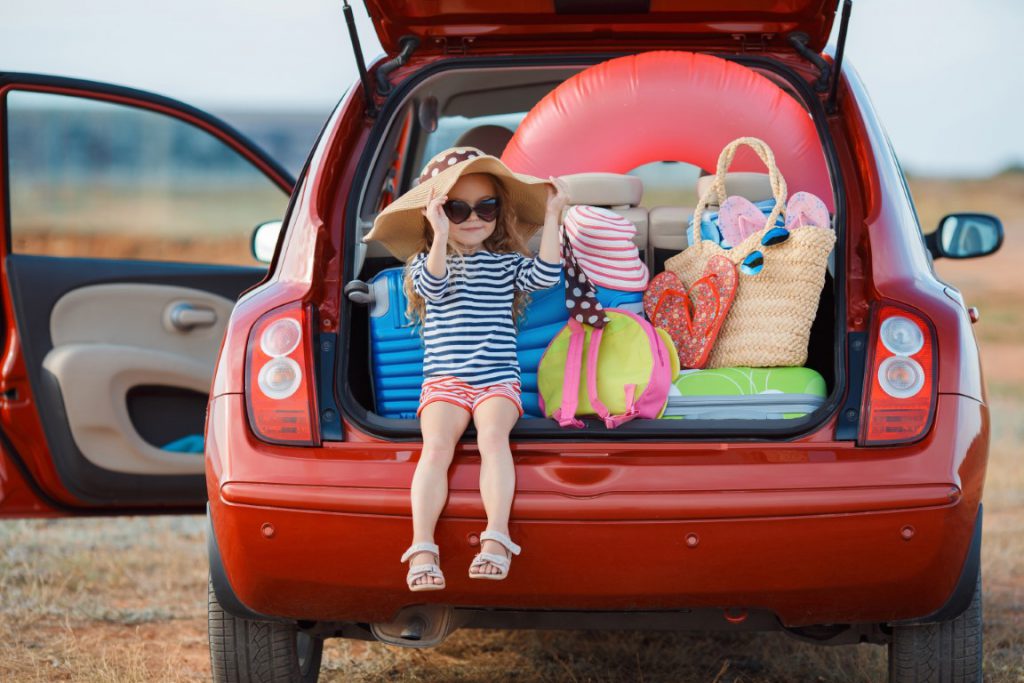 If you have the kids in tow, remember the floaties and, for the toddlers, swim diapers. Regular disposable diapers will absorb the salt water and quickly fall off. And beach toys are always a great idea. Grab a sand toy and build that castle!
Hydration is vital if you plan to spend the entire day at the beach. A small cooler for water and healthy snacks is recommended. And pack some disposable wipes for quick clean-up. A great tip is to keep the wipes in the cooler.
If your destination beach choice includes water sports, there are a few things to consider. While you can rent scuba tanks or snorkel gear to explore the sand and reefs, you will want to wear your own water shoes and pack custom-fit or prescription masks if you have them.
Before bringing heavy beach gear, check with your Airbnb or vacation rental. Many seasonal vacation homes include beach umbrellas, grills, or beach chairs at no extra charge. If not, there are dozens of places on the beach where you can pick up what you need. And you will have a souvenir from your trip to haul home.
Oh, and don't forget to pack a handful of bathing suits! That way, you can avoid putting on a wet bathing suit.
If you are looking for new swimwear, there is a growing trend toward rash guards – UV protective swimwear and activewear. This unique swimwear has a built-in SPF 50 to protect in and out of the ocean or pool.
General Travel Tips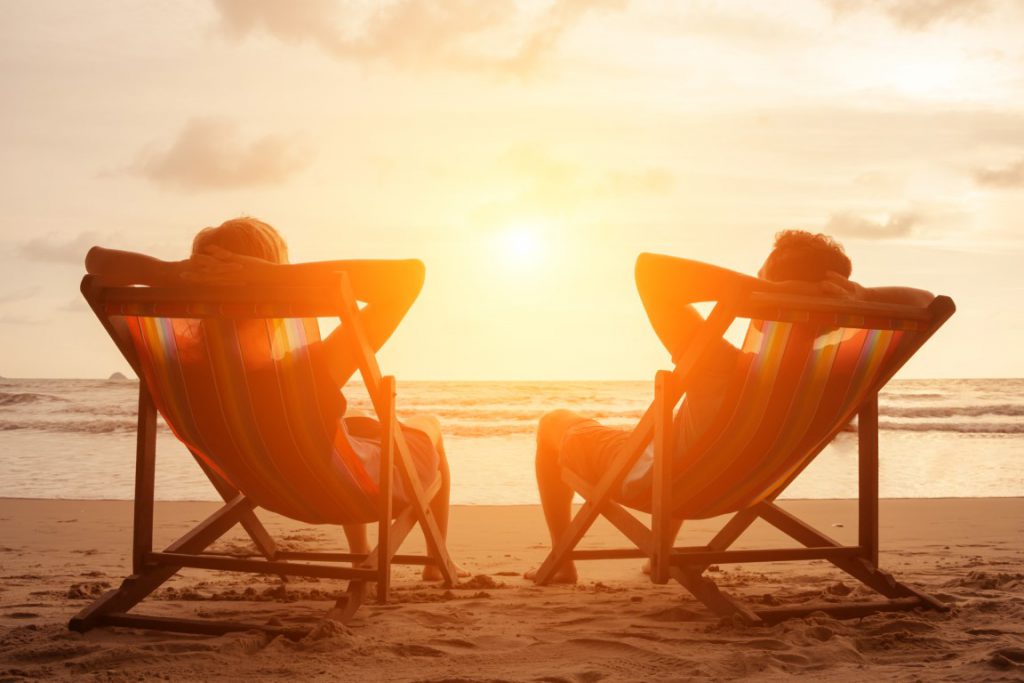 During your trip, you'll likely spend some time sightseeing or shopping. If you plan to do so, remember to pack casual clothing and a light jacket or sweater for the day. Reliable walking shoes, sunglasses, and a sun hat are a must.
Utilize a daypack or messenger bag to carry IDs, phone, digital camera, a reusable water bottle, and other daily essentials. Many solo travelers utilize travel apps to keep track of their items and navigate their way around. These phone apps are usually free and great for checking in with loved ones while traveling.
Even if you spend all day at the beach, there will be times when you want to see the sights or enjoy a night of entertainment.
More than Just Beachwear
In general, light and fashionable items should guide your clothing choices. Skip the faded T-shirts and opt for a casual but polished look.
Many coastal restaurants, marinas, and nightclubs have house rules and dress codes. Smart beachwear is a must, as are appropriate shoes.
Also, consider leaving the hair dryer and curling appliances home with the hair products and makeup. Your sun-kissed skin and highlighted hair will thank you.
Legal Documents
And don't forget your ID or passport (if traveling internationally) just in case they card you before serving that glass of wine.
Set up a health travel kit, too. Fill one zip lock bag with your vaccine card, mask, and a copy of your health insurance card. Throw them in your suitcase, just in case they are needed. A great travel tip is keeping photos of essential documents on your phone or a USB hidden in your bag.
Sometimes travel can upset the sleep schedule. Having a sleep travel kit on hand may help. Include an eye mask and disposable ear plugs for noisy hotels or vacation rentals, a bit of lavender oil, and a sachet of chamomile tea to help you relax and sleep.
Packing Tips and Secrets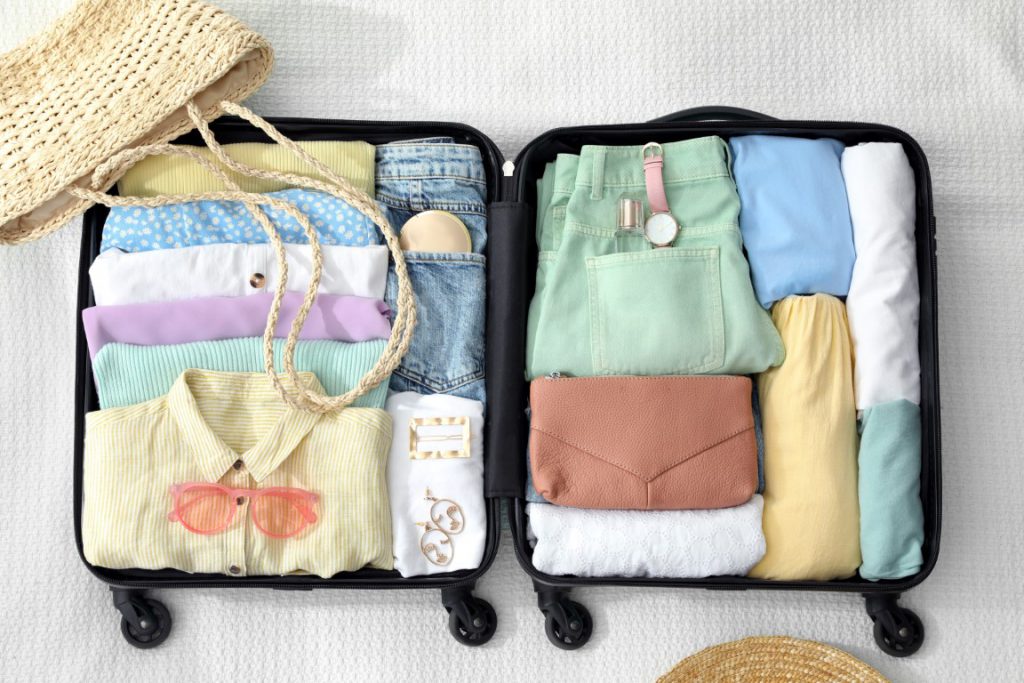 The fundamental secret to efficient packing is to organize and categorize. The pros use a few tips and tricks to make the most of any suitcase. It doesn't matter whether you pack a rolling suitcase, a backpack, or a duffel bag. These tips will work great in all three.
Roll Everything
It's no secret that rolling clothes is a very efficient way to pack. In addition to more room, your clothes will have fewer wrinkles. But with all that extra room and stuff, your suitcase or duffle bags will be heavier to carry. Also, your efficiently packed baggage may exceed the airline's weight restrictions with more space. It's a trade-off but something to consider.
Hide Things
Bulkier items, like shoes, always take up valuable suitcase space. A great way to counter this is to pack socks or smaller items inside shoes to save space. If you have a choice, grab luggage with multiple compartments. And consider packing a small combination or key lock for the beach or rental lockers.
Use Cubes
Packing cubes are the ultimate pro secret. They can be bought in a variety of sizes and shapes. Usually, they are rectangular with a solid fabric bottom, a zipper closure, and a mesh top. These handy little inventions keep clothes neat and organized. Cubes are also great for sorting shoes.
And if you have room for a couple of plastic cubes, they can keep beachy and wet clothes separate from other items. An alternative to plastic cubes is inexpensive ziplock plastic bags.
These makeshift dry bags are perfect for travel. They can be stuffed with necessities while on the road and trash or laundry on the trip home. They are also fantastic for sorting and organizing toiletries, food, and even cash or credit cards.
Once you have chosen the best beach for your perfect vacation, make a plan and pack sparingly. You will want to enjoy this time, not wrangle clothes, beach toys, and a dozen other things you won't use and must carry home.